Last Halloween, we were short one family member. We didn't know it at the time, though. We *thought* our family was complete. But just a few months later, we found ourselves welcoming a new member of the family. A short, furry, four-legged family member…but a family member nonetheless.
We call him Snoopy, and we are excited to have him with us for this year's Halloween festivities. In fact, I've kind of gone above and beyond to make sure he'll have the full Halloween experience. I wouldn't want him to feel left out, right?! I made him a costume (he tried it on today and would probably disown me if he could…he was basically mortified, as you'll see in his picture at the bottom of this post), and we bought some Halloween treats for him and a few of his closest canine buddies. And because we get our share of trick-or-treating pets around here, I made some cute little printable treat bag labels for pets, too.
Snoopy has a very sensitive stomach. Our Kroger has a huge pet section, and I found some Milkbones and Pup-peroni to use. Claire helped choose a box (not sure what she based her choice on, but I think it was the dog on the front), and was very excited about the idea of Snoopy getting to trick-or-treat with us this year!
To make these, you'll need:
Dog treats (I chose Milkbone and Pup-peroni, and I cut each Pup-peroni in half – but you could also make your own Bacon Dog Biscuits for extra points with the neighborhood pooches!)
Ribbon (optional – I used some leftover ribbon, but you could just as easily stick the labels in the bags with the treats or tape them on – they look cute taped onto the bags with some fun washi tape)
Labels (download below) and paper to print on
Hole punch (if you're using ribbon)
We put two Milkbones and one Pup-peroni in each bag, punched a hole in the label, and tied it on with a ribbon. It didn't take long, and they turned out super cute. I don't know if I'll be able to wait until Halloween to share these with the neighborhood dogs!
You can download the Halloweed treat bag labels for pets here, or by clicking on the black and white download button below.


But now what you've all been waiting for. The Dog Costume. The one I decided I'd make because how hard can it be to make a Darth Vader costume for a dog, right?! Ha! Making the costume? Not so hard. Trying it on the dog and getting him to sit still for a picture? Not so easy.
I may have traumatized Snoopy for life, but if you're going to be a pet in our household, you've got to be okay with wearing a costume every now and then, because dressing up dogs is the best. Welcome to Halloween in the Lindsey household, Snoopy. You've been initiated.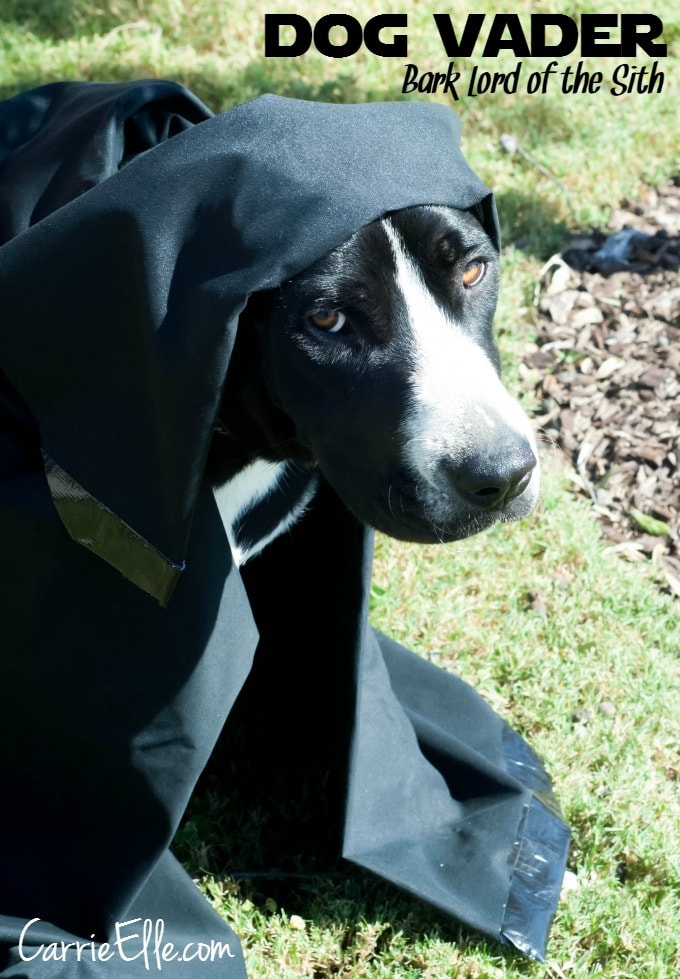 We're so grateful to have the Snoopster in our lives, and I'm excited to spoil him (and his friends) with Halloween treats this year. I mean, with a face like that…who wouldn't be?
Happy Halloween from Snoopy!