This is a sponsored conversation written by me on behalf of KC Masterpiece. The opinions and text are all mine.
You guys know I love my crock pot. Since I basically can't cook more than a handful of legitimate dinners (I make some mean eggs and toast, though…), we depend on the crock pot a lot. Sometimes, though, we get really burnt out on the same old meals.
I am always on the lookout for an easy crock pot recipe. I've also been wanting to try bacon-wrapped chicken in the crock pot for awhile now. We're kind of at a glorious age where the kids realize they like barbecue sauce and will at least try most things I put in front of them (still lots of crying about veggies, though…not sure when that will change). So with all that in mind, we set out to make Bacon-Wrapped BBQ Crock Pot Chicken, and you know what?
It. Was. Delicious.
I knew that KC Masterpiece Sweet Honey and Molasses Barbecue Sauce would be perfect for this recipe, and I was right. With its sweet and tangy flavor, it was the perfect way to complement the onions (which of course the kids did NOT eat) and pepper in this dish.
It was simple to make, and I made it even simpler by serving with a bagged salad from the grocery store and a side of applesauce.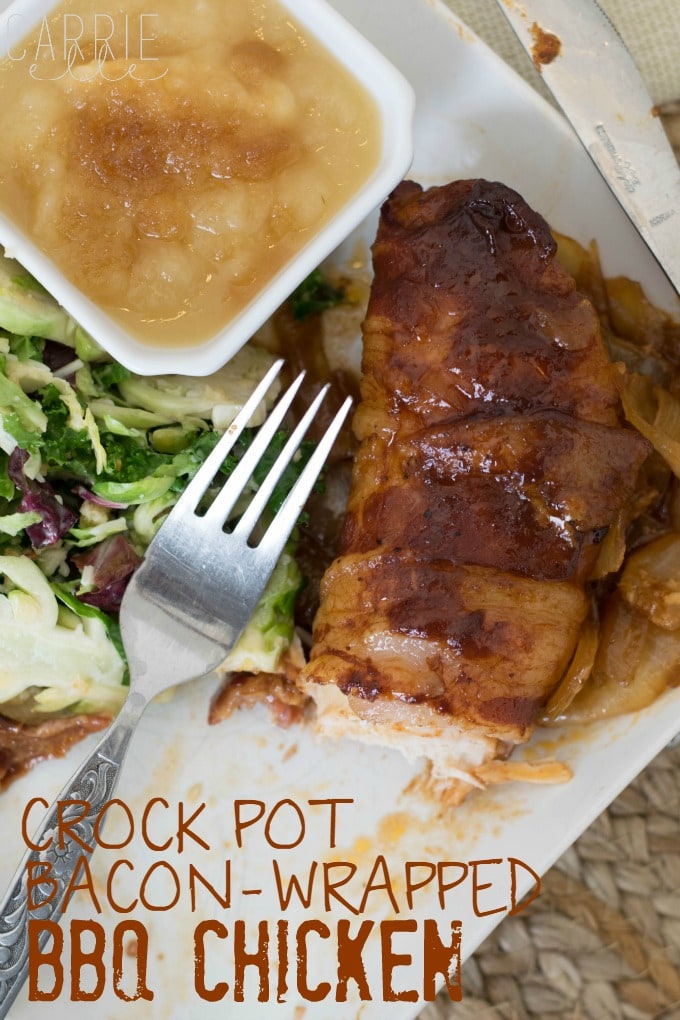 Here's what you need to make it:
4 chicken breasts
1 onion, diced
1/2 cup brown sugar
Lemon (I used the juice from one lemon)
Pepper (to taste)
Bacon
Wrap each chicken breast in two slices of bacon.
Dump everything in to your crock pot. Because it's a crock pot and that is the beauty of crock pots, you can just dump it in however you'd like. I put the onions down first, then the chicken, sprinkled the pepper over the top, squeezed the lemon on top of that, and then poured the entire bottle of barbecue sauce on top of everything. I finished by sprinkling the brown sugar over the barbecue sauce.
Every crock pot is different. We set ours on high and it was ready in three hours. We normally set it on low and leave things longer, but you know your crock pot best!
Created in 1978, KC Masterpiece Barbecue Sauce was born in Kansas City and remains the number one selling sauce in the area (you can find it at your local grocery store, though…no need to go to Kansas City!). It's a number one seller for good reason, too…this stuff is really, really good. A blend of tomato sauce, spices and molasses, I could probably eat this straight out of the bottle and call it a day. Not that I did, but…okay. Maybe I did.
But I saved some for the chicken!
Not only did I feel like we kind of broke out of a boring dinner rut with this meal, but I also feel like I knocked it out of the park…this was a huge win. And definitely something we'll be adding to our rotation!
You can find out more about KC Masterpiece Barbecue Sauce here.
What are you having for dinner tonight?
This is a sponsored conversation written by me on behalf of KC Masterpiece. The opinions and text are all mine.