Claire was sick today, which meant we spent the day indoors. She spent most of the day clinging to me, and took a couple of naps for good measure. But she's three, so…she still wanted to play and needed to be entertained. And frankly, I did too! So we busted out a couple of crafts I've had in my head for awhile now but haven't had the time to actually sit down and do.
Turns out, I really did have the time for these. They were super simple…both crafts took less than 15 minutes, total, to complete. And the one I am going to share now was so simple, Claire was able to do it herself, with very minimal assistance. This framed button heart was intended as a Valentine's day decoration…but it's *so* cute, I'm going to put it in her room and leave it up year-round!
All you need for this craft is a bunch of buttons (I used some we picked up in the dollar area at Michaels – darn you Michaels for making me buy ALL THE BUTTONS, ALL THE TIME!), some glue, and a piece of card stock with a heart on it (to make it even easier, I have a printable heart you can download).
I applied the glue and let Claire choose the buttons and apply them. I told her to put the flat side of the buttons in the glue, and she got it. I moved a couple of buttons here and there, but really? She did this almost entirely on her own.
I liked this craft because it was easy and required minimal supervision on my part…and it turned out SO DARN CUTE. Claire liked it because she could do it herself, and I loved seeing how proud she was of the finished product!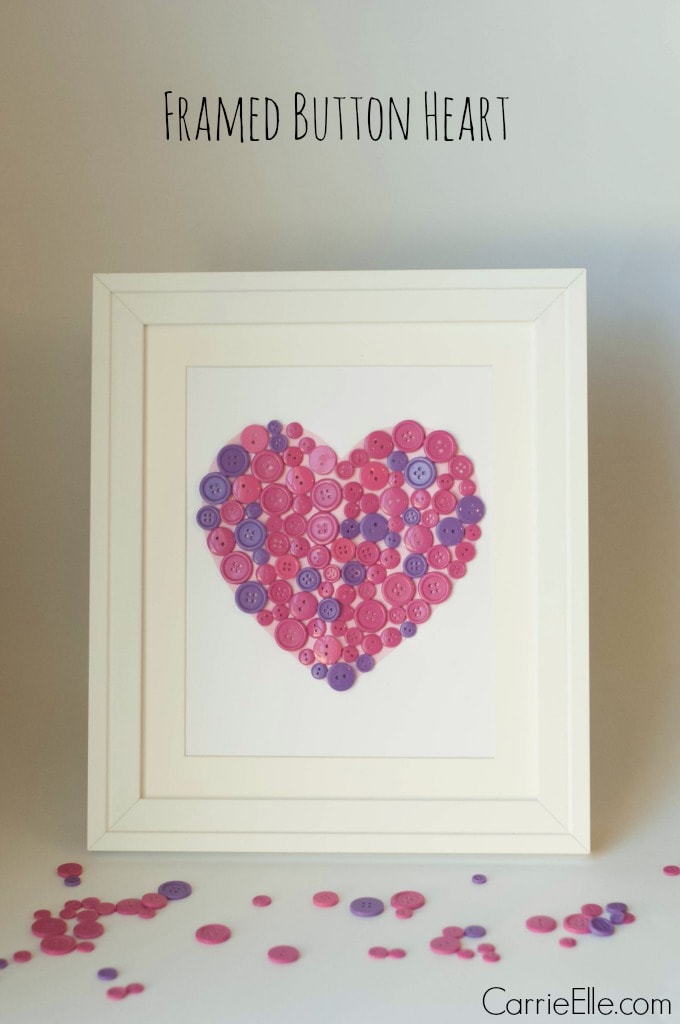 Easy, cheap, and cute…my kind of craft!
You can download a free printable heart (the one I used for this project) here.
You can see my other Valentine's Day projects here:
DIY Lego Movie Valentines (with a free printable)
DIY Star Wars Valentines (with a free printable)
Printable Valentine's Day table setting (place mats, banners, Valentines Day coupons and more!)
Framed Button Clover (not Valentine's Day, but similar to this heart project)
Find me on Facebook for easy recipes, free printables, super simple kid-friendly crafts, and things to do in Dallas. I'd love to have you join me over there!