Soooo, it's no secret I'm a legit Planner Addict (need to kill some time or be inspired to buy allll the planner things? Troll the hashtag #PlannerAddict on Instagram. You're welcome.). I mean, I'm such a planner addict that I make and sell planners to fill needs that I had in my own life (meal planning, spending, 21 Day Fix food tracking, etc.).
Some people :::cough cough::: my husband :::cough cough::: think I have too many planners, but that's poppycock. POPPYCOCK, I say. I love sitting down with a planner, a stack of pens, and some cute stickers. To me, sorting through the week ahead and getting organized makes me feel peaceful and like I actually have a handle on all the crazy. Plus, being surrounded by pretty paper things is kind of like heaven.
I'm going to share my planning system with you and the best planners that I have found for myself and my needs. Questions or want to know more about anything? Leave a comment in the comment section and I will get back to you!
Meal Planner: Carrie Elle Meal Planner
I really needed a meal planner in my life that I could leave in the kitchen and dedicate to meal planning. Mostly, I needed this in my life because I was so bad at meal planning – I really needed help getting organized. I couldn't find what I was looking for anywhere. It just didn't exist way back in 2013. So, I made one.
What I needed was something that was functional, flexible in case my planning needs changed or I missed a week, and had a perforated grocery list so I could plan out my weekly menu and shopping list and then rip off the list and take it with me to the store.
When I made this, I didn't know if anyone else would ever use it. But it's been indispensible for me (and my sanity!).
You can see more pictures and video and buy a meal planner here. I have a less-expensive printable version, too!
This post contains affiliate links.
Daily Planner: Erin Condren Life Planner
As you would think, I have made myself a daily planner. It's a printable planner and I call it a Life Organizer, because it is huge and has a place to organize everything. But here's an interesting fact about me: I use a tube of chapstick until it's gone, I use pens until they run out of ink, I write in notebooks until they're full.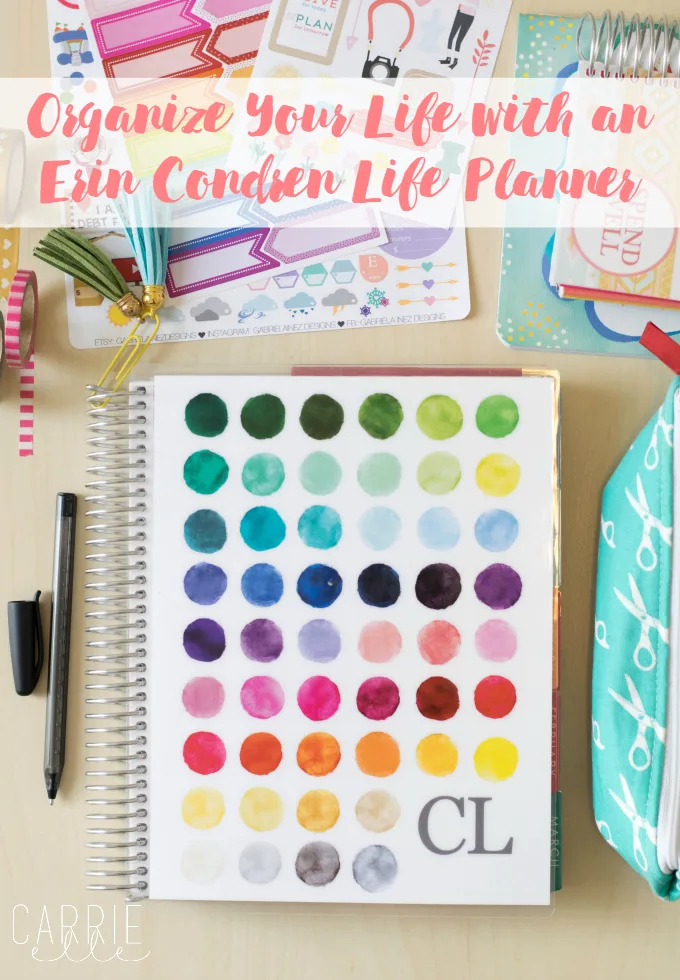 So there ain't no way I'm getting rid of this beauty, even to use my own planner. And I'll be even more honest here – even with my own planner? I'll probably still buy and find a way to use an Erin Condren Life Planner for the rest of my planner-living life, because they are awesome like that. Most likely, my next one will be used for journaling.
These are just so pretty and functional. I use it to plan out my week and keep track of appointments. I also have an ongoing life to-do list (things like calling the doctor, picking up presents for birthday parties, and occasional work to-do items).
I jot down commitments as they come up on the monthly calendar. Then, each week, I sit down and plan out my week, using that as a reference. You don't have to be all crazy with the stickers. I just like stickers – and this makes me feel like I'm scrapbooking. Plus, when I'm all done with this planner, it makes a pretty keepsake and is fun to look back on.
You can see more pictures and buy an Erin Condren Life Planner here.
Cash & Budgeting System: Carrie Elle Spend Well Budgeting System
We like to budget and spend cash when we can. For years, we had an envelope system I made out of a binder and some envelopes and an ugly spreadsheet. It totally worked just fine. But one of my plans for this year was to make that into a pretty and functional product, and this was the result.
I love that it gives us a true system for keeping track of our money. It feels good to pay cash (and cash is harder to spend, I swear it is!), and I love being able to look and see what my finances look like just by flipping through this cash book.
You can see more pictures and buy the Spend Well Budgeting System here.
Project Management & Ongoing To-Do Lists: Erin Condren Inspire Metallic Platinum Journal
I am always working on something new, and I have several notebooks where I "brain dump" ideas, plans, and more. But once something gets serious, I need to put it in a place where I can organize my ideas and create an actionable to-do list.
I just recently got this Erin Condren journal, and it has ended up being so helpful. I'm using it to plan and execute my Meal Planning and Budgeting Challenges. I use the note pages to outline an email or list out all the things I need to add to my Facebook group, and then I turn that into action items on the to-do list. I wish I had created this!
You can learn more and buy an Erin Condren Journal here.
Work and Blog: Printable Blogging Planner
Here's another one I had to make myself. I needed a specific way to organize my work day (a monthly calendar for my editorial calendar, and daily to-do list and schedule space, PLUS lots of room for ideas, a place to track my monthly stats, room for expenses and income, and a way to be strategic about my goals). I made this to meet all of my blogging needs, and it's ended up being super effective at helping me stay on-track and organized.
I don't know what I was doing before, really – this has been a game-changer, and I probably touch it and write something in it every day.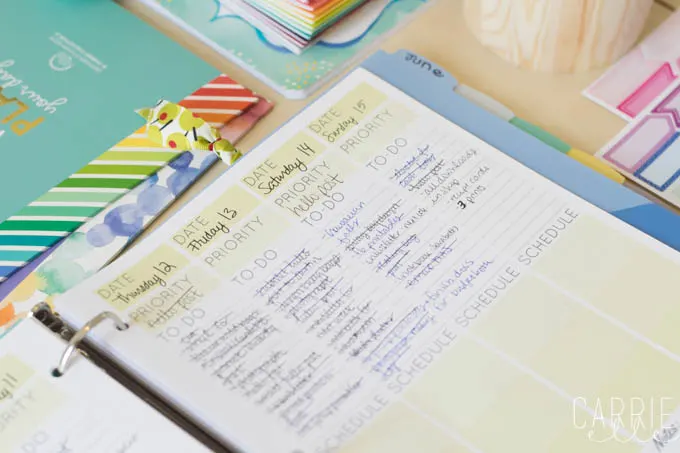 You can see more pictures and buy a printable blogging planner here.
THAT is how I stay organized. And really, I'm not always organized. I'm just not. But I try, and these are the tools I use.
Maybe next week I'll terrify everyone with my pen and sticker collection (so many pens. so many stickers.). But until then…leave your questions or comments below!
Be sure to follow me on Facebook for planner goodness, easy recipes, some fun crafts, and family-friendly ideas.