I've partnered with Discover Wylie to bring you my favorite places to eat in Wylie, Texas.
Are you looking for the best places to eat in Wylie, Texas? Something amazing for a special night out, or maybe somewhere to take out-of-town guests? I will be super honest and say Wylie is not known for its culinary treasures (yet). However! All is not lost. There are a few fantastic places to eat that I can wholeheartedly recommend.
I feel pretty certain that over the last decade of living in Wylie, I have eaten at most of the restaurants this town has to offer. There are a few that we keep going back to, and those are the ones I want to share with you today.
Craving Mexican food? Frankie's is the place to be! This beloved Mexican food restaurant was already well-established in Garland and Sachse before they opened a location in Wylie (and they really needed another location, the one in Sachse was always packed!).
Frankie's is the restaurant all of our out-of-town friends and family request when they visit. You can be guaranteed the food will be good and the service will be friendly. The Wylie location has both outdoor seating and an indoor/outdoor bar (open when it's nice out, closed when it's cold!), which makes it the perfect place to eat on a nice fall or spring afternoon. Also, yes, BAR. They have a full bar with amazing margaritas.
Because they're located downtown, that also puts them in walking distance of the winery (see below for more on that). This makes Frankie's a great date-night location as you can have some amazing Mexican food and then walk down the street for wine!
If you follow me on Instagram, you know I love Landon! It's our favorite local winery. We used to have to drive to McKinney to visit, but they've opened a location in Downtown Wylie. While this isn't technically a restaurant, they do serve some amazing charcuterie boards. They've recently expanded their offerings to include flatbreads and some other shareable items that pair well with wine.
If you're looking for something more substantial to eat, you can order in dinner from a number of local restaurants! We often order from Bold BBQ or pizza from Villa Vinci, both of which are located downtown and will deliver right to Landon. Landon is also kid-friendly, and on many occasions we've brought the kids.
My favorite Landon wines are the Viognier and the Texan. I'm a member of their wine club, so I've had the opportunity to try many of them, but I keep coming back to these two (and the Yellow Rose, I also love that one!).
This is another great place to meet friends or enjoy a date night (and, another place we always bring friends and family who visit).
Is a Texas town even a real Texas town if it doesn't have its own BBQ joint? Luckily, we have one in Wylie. Bold BBQ (also downtown, about halfway between Frankie's and Landon) is our favorite local place for good Texas barbecue.
Bold BBQ has been in town for only a couple of years and we really hope they stay put. With excellent brisket and chocolate chip cookies the size of small battleships (not really, but they are hefty), this is one restaurant my kids never complain about and even ask for (that's a huge compliment coming from my picky kidlets). You can eat in the restaurant, but we always like to grab it to go along with a bottle of wine from Landon for an easy dinner at home.
Are donut places restaurants, you ask? To me, they are. Donuts are one of my favorite food groups and Donut Palace II is my favorite place to get them. Donuts are one of the most-requested food items in our home, being especially popular for birthdays because Donut Palace makes the cutest birthday donuts ever.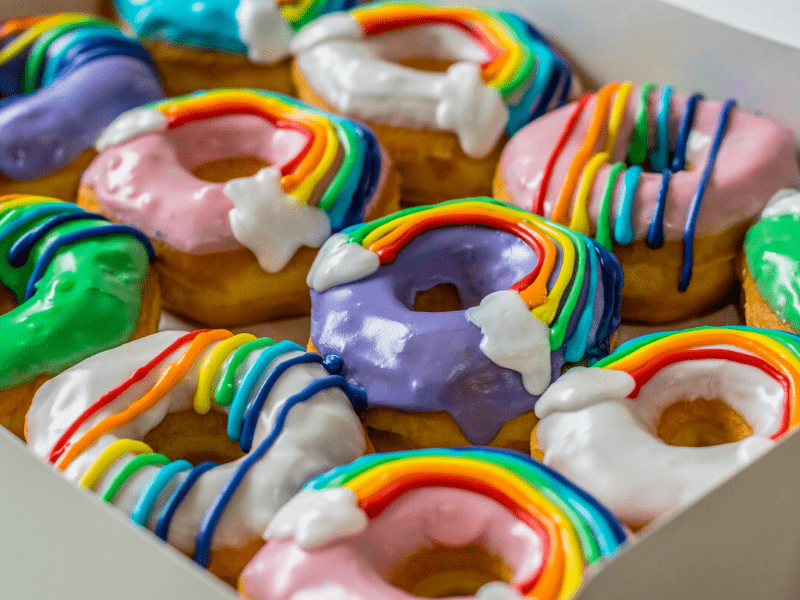 You'll want to call a couple of days in advance to order Happy Birthday donuts, or anything out of the ordinary (like these rainbow donuts, which are pure perfection!). The people who own it are the nicest, most helpful people ever and they have accomodated more than one last-minute donut order for my family, but we always try to give more notice to make sure they have time.
Besides the obvious choice (iced rainbow donuts, of course), the blueberry cake donut is my favorite! SO GOOD.
Just a hop, skip, and a jump down the road from the donut shop is Fish N' Tails Oyster Bar. While I have never had their oysters, I do love their crab cakes and fried pickles! Fish N' Tails is a popular lunch spot and also gets the weekend crowd. With friendly service, a bar, and a menu with something for everyone, it's another top pick for our family.
Outside of crab (which I love, can never get enough of, and would eat every day if I could), I am not really a seafood person. So, it took some convincing to get me to eat here in the beginning. I think my husband bribed me with the fried pickles, but I went back again for the crab cakes. If you're not into fish, there are salads, burgers, and chicken to choose from, too. You can see the full menu here.
If you're looking for the best places to eat in Wylie or somewhere to meet friends, I hope you'll enjoy these places as much as we do!
Here are some of my favorite things to do in Wylie. If you're new to town (welcome!), or planning a visit, you can learn more about Wylie at the Discover Wylie website.
Looking for more things to do outside in North Texas? Visit Shangri Llama in Royse City, or plan a weekend in Plano with the whole family!