A few months ago, I posted 25 writing prompts – there were a few topics I'd wanted to write about that were floating around in my head and I thought I'd share them on my blog.
You can find the first "25 Writing Prompts" here.
Since then, I've come up with some more – I hope these will inspire you to write, or give you some direction if you're sitting around with a will to write but nothing to write about!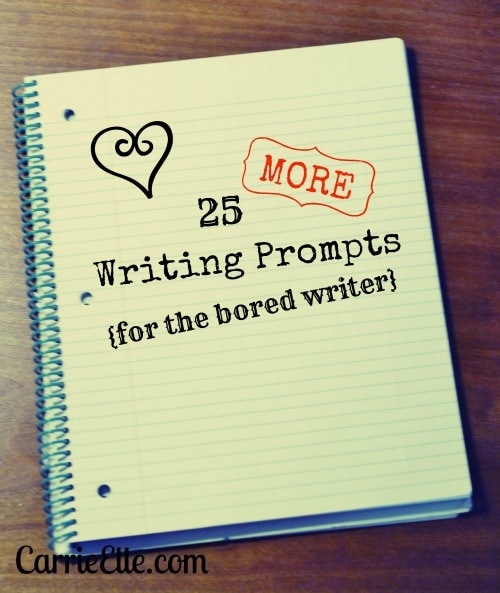 1. Give a tour of the home you grew up in.
2. Tell about a time you were wrong.
3. Pick an object next to you, and write down what it is – let your stream of consciousness tell the rest of the story (if I were to use this prompt right now, my story would start with, "The blue pen…")
4. Pick your favorite name and write a character sketch for a person with that name.
5. Write a letter to your unborn child. It's okay if you don't have children, don't want children, or are done having children – that might make it more interesting.
6. Write a letter to a grandparent and tell them about your day.
7. Describe your car using your senses – how does it smell, how does the steering wheel feel, how does the radio sound?
8. Tell the story of how you met your best friend.
9. If you had to be an animal for a day, what would it be? Tell about your day.
10. Write the first chapter to a novel you have no intention of ever finishing.
11. Write the last chapter to a novel you have no intention of ever starting.
12. Pretend you're underwater, and write about how it feels.
13. What is the most embarrassing thing that ever happened to you?
14. Tell someone from the early 1900's about the Internet. Or TV. Or better yet, YOUR CELL PHONE.
15. Who makes you feel the happiest? Tell that person "thank you" in a letter.
16. What do you want to accomplish before you die?
17. Why do you love your favorite movie?
18. How does music sound to you?
19. Write about something you're afraid of – explain why you're afraid.
20. Explain how to do something in five steps (it can be anything – how to do laundry, how to file your taxes, how to write a book – the more random and difficult to explain, the better).
21. Tell a story using a TV commercial to inspire your setting and characters (example: a pretty lady getting out of a car, an overly-perky mom vacuuming her spotless floor).
22. Describe what it's like to eat your favorite food – the texture, the taste, the feelings associated with it.
23. Write about your day…only, change your race and/or gender.
24. If you were a color, what color would you be?
25. Write about a pet that used to be in your life.
You can find the first "25 Writing Prompts" here.