Earlier today, I was digging through my fridge, looking for something to eat (as usual!). I made a bunch of hard-boiled eggs in the Instant Pot earlier in the week, and I had a few left, but I was kind of sick of hard-boiled eggs, you know?
So I made this 21 Day Fix egg salad, and it was perfect. A little change-up from my everyday eggs, and it only took five minutes to make.
21 Day Fix Egg Salad
I made this for myself, so the recipe is based on just one serving…triple and quadruple to your heart's delight! The "secret" to keeping this Fix-friendly was just using less mayo than traditional egg salad calls for. I used dijon to kick up the flavor a little.
If you like dijon, you could even increase the dijon a tad and cut back the mayo to keep those teaspoons down.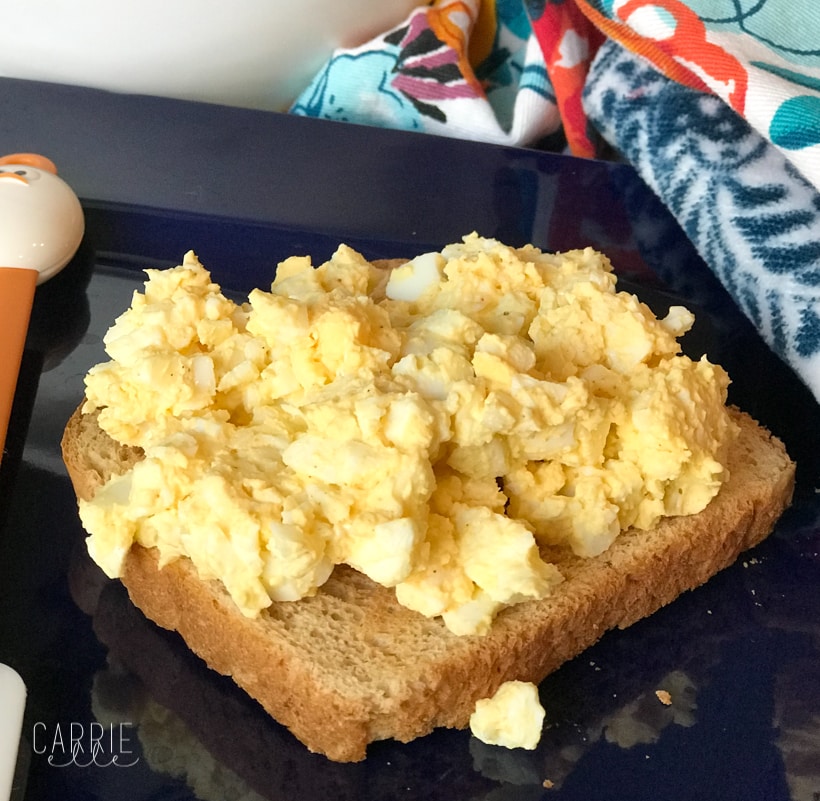 Also, to make this 80 Day Obsession-compliant, knock it back to one teaspoon of mayo (increase the dijon so it's not too dry…if the dijon is too intense, use regular mustard).
If you have extra teaspoons to use, go ahead and add in extra mayo, yay!
Serves: 1
21 Day Fix Egg Salad Ingredients
2 hard-boiled eggs (learn how to make hard-boiled eggs in your Instant Pot here).
1 1/2 teaspoons mayo
1/2 tsp dijon
1/4 teaspoon paprika (add more if you're a paprika fan!)
salt, to taste
pepper, to taste
Mash or dice your eggs in a bowl. I actually use one of these when I need to mash anything (from meat to bananas to eggs), and it is amazing.
Mix in the mayo, dijon, paprika, salt and pepper.
If you have time, cover and let it all sit in the fridge for a few hours to really let the flavors meld. I ate mine right away though, and that was fine, too.
Eat plain or in a sandwich. I had mine a piece of whole wheat toasted (buttered, yum).
The 21 Day Fix program is always changing, and while I do my very best and never want to mess up (perfectionist, yo) – but please always double check the container counts yourself.
Container Counts (per serving)
If you have in a sandwich or over toast, don't forget to add the appropriate containers!
As pictured here, on a slice of whole wheat with 1 tsp butter, my counts would be 1 red, 2.5 tsp, 1 yellow.
21 Day Fix Egg Salad
Ingredients
2

hard-boiled eggs

1 1/2

teaspoons

mayo

1/2

tsp

dijon

1/4

teaspoon

paprika

add more if you're a paprika fan!

salt

to taste

pepper

to taste
Instructions
Mash or dice your eggs. Mix in the rest of the ingredients. Let sit in the fridge for a few hours for the flavor to meld, or serve right away.

This recipe is every easy to double, triple, or quadruple!
Notes
21 Day FIx container counts: 1 red, 1.5 tsp (cut back to 1 tsp for 80 Day Obsession)
Here are some other Fix-friendly ways to eat your eggs:
And I also think you'll love the posts below!