Guys. GUYS.
Can I tell you how much I loved my time in Sedona, Arizona?! Earlier this month, I met my two BFFs for a much-anticipated girls' trip to celebrate my friend Jesika's 40th birthday (and kind of, all of our 40th birthdays). It was the first time we've ever done a trip like this, and we stayed for a full week (which is super long when you have a job and kids back at home). But it was so, so worth it.
I'm going to share 5 things to do in Sedona with you in just a second. But I have a few quick travel tips for Sedona newbies like me that I think you'll appreciate, first!
This post is going to be super long.
5 Things to do in Sedona, AZ
OK, first of all…if you want beautiful weather that you can hike in all day long, you'll probably want to visit during the peak travel times (March-May, and September-October). But if you're trying to save money and avoid the crowds, you'll want the "off" time – like summer. Which is HOT, y'all. But still doable…just plan on hiking in the early morning (like, start at 7AM) and you'll be fine!
We stayed in an Airbnb in west Sedona. There are many great hotels and beautiful resorts. We were on a budget-friendly trip, which meant we needed to eat at home as often as possible. We stayed at the Rainbow House, which was nice because it was within walking distance to the Thunder Mountain trailhead.
We had groceries delivered (I used Instacart) because I hate grocery shopping, especially on vacation. But we did make stops at basically every grocery store in Sedona during the week, so…
Sedona is a small town, and most of the stuff we did was less than 20 minutes away from where we stayed.
Here are 5 awesome things to do while you're in Sedona!
Visit the Chapel of the Holy Cross – This Sedona landmark is one of those things you can't stop staring at while you're driving by, because how can it be real?! It's just so gorgeous. We actually visited it on our Sedona Trolley Tour, which cost $15 and lasted about an hour. The trolley stopped and let us off at the chapel to visit and tour the inside.
The benefit to taking the trolley here was that we had front-row parking (it can get super crowded, I'm told!). The chapel itself is surprisingly small on the inside, and it won't take you long to see it all.
A quick note about the trolley ride: our trolley tour guide and our Pink Jeep tour guide gave us conflicting information on several Sedona "facts" – so FYI, fact-check that shiz.
Hike Devil's Bridge – This has to be a favorite of mine. I mean…look at what we got to do. There are lots of different options for hiking in, from easy/moderate to more difficult. There is some really steep climbing (mostly stairs) for the last 1/4 mile or so (which is a lot when it's all uphill). But so, so worth it.
You can also rent an ATV and ride in most of the way, and then hike the last 1/2 mile. I would do this if I had my kids with me, just to save on whining. I'm told Devil's Bridge can get super crowded, with lots of foot traffic, during the busy times, and I feel like that would kind of suck. When we visited, there were people there, but it wasn't crazy. It was actually pretty peaceful.
Take a Pink Jeep Tour – This was the one thing that people kept telling me to do, over and over. And I almost didn't do it! It was $110 for the Broken Arrow tour, which is the least expensive tour. I was kind of being cheap. But we decided to do it, and it was worth every penny. If I went back, I'd save all my pennies to take my whole family on this fun jeep ride!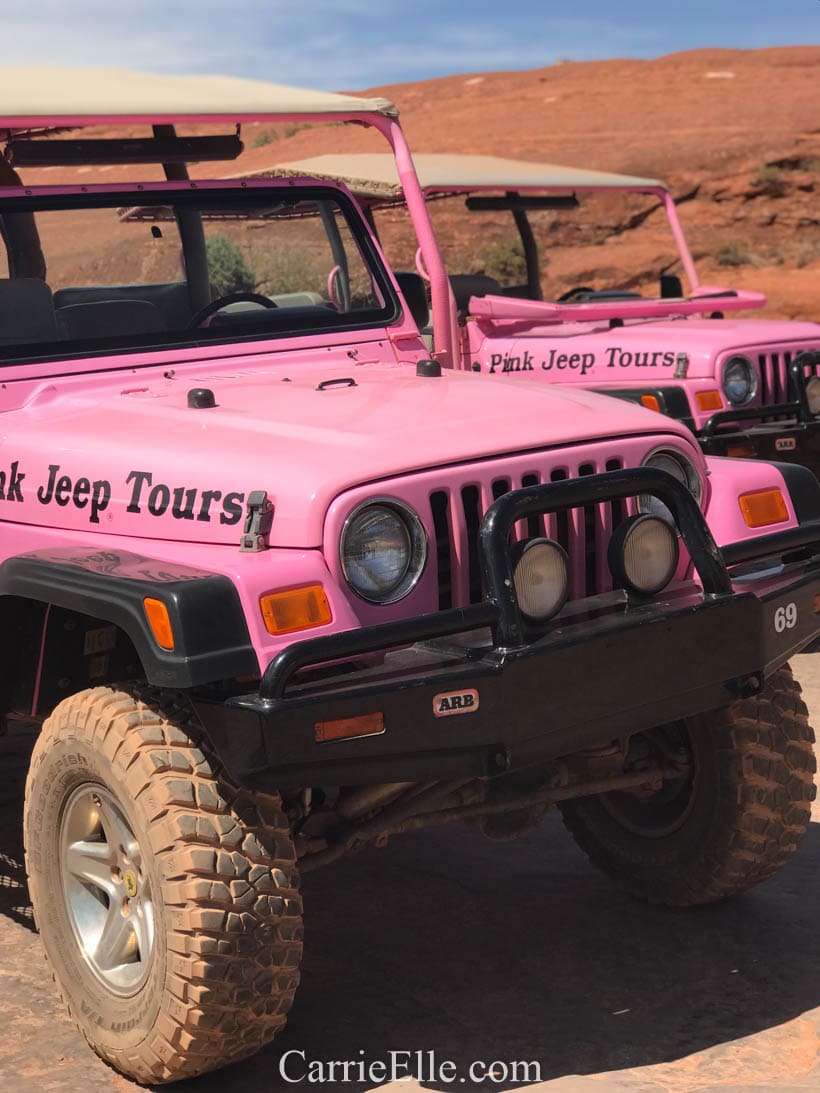 The ride we went on lasted about two hours. We got out of the Jeep several times for photo opps. The Jeeps are bouncy (so bouncy!) and take you straight up over some crazy rocks and even down a 47 degree rock "slide" – SO. MUCH. FUN.
Wear a hat and sunscreen, and bring your water!
Visit the Amitabha Stupa Peace Park – If possible, visit in the early morning or evening and plan on spending some time here just enjoying the surroundings, the peace, and everything beautiful and kind this place has to offer. I regret not going back. We visited early in our trip and I was determined to return with a journal and sit down for an hour or two and just write, but it didn't happen. SAD FACE.
This place is pretty quiet. Kids are, of course, welcome, but if yours are rowdy you might want to save this for an adults-only trip.
Visit ALL the Vortexes – Sedona is famous for its healing vortexes (vortices, actually), where energy is more intense. We visited them all, and I don't think I can pick a favorite. They were all unique. But I did love chilling on the Airport Mesa Vortex after the Airport Mesa Hike and watching the sun go down.
A couple of these require $5 parking passes.
Take a day trip to Jerome, AZ – OMG JEROME. It was the coooolest. Literally a little town built into a cliff, the views are stunning. The only reason this was on my radar is because my husband is a huge TOOL fan – and the singer from TOOL (a band, if you're not in the know!) runs a winery in Jerome. We visited his tasting room – Caduceus Cellars, which was fantastic, as well as his shop (called Puscifer, and not child-friendly).
Toyota was kind enough to loan us a Toyota Rav-4. This was the perfect road tripping car, and we really put some miles on it! From Phoenix to Sedona to all over to Sedona to Jerome to the Montezuma ruins and back to Phoenix…this car definitely got a little dirt on the tires!
It got great mileage – with all that driving, we only filled it up with gas twice. It had plenty of room in the back for all our luggage (which was a lot, y'all). It was roomy but also felt compact and zippy enough to have fun driving around town. And because it's not huge, it was perfect for the Jerome trip, where parking was limited and the spots were on the small side!
We also visited another winery while we were there called Cellar 433 with the most insane view you can even imagine. It was stunning.
There's lots to do here – so many quaint little shops, bars, and places to explore.
For dinner, we drove into Cottonwood and ate at Merkin (also owned by Maynard from TOOL, and totally family-friendly). My pasta with goat cheese pesto sauce was BOMB, y'all.
OK, one more thing…
See a sunset! We hiked the beautiful Airport Mesa trail and then hung out for the sunset. You can view it from the airport, or chill on the Airport Mesa vortex. Views for dayyyyys.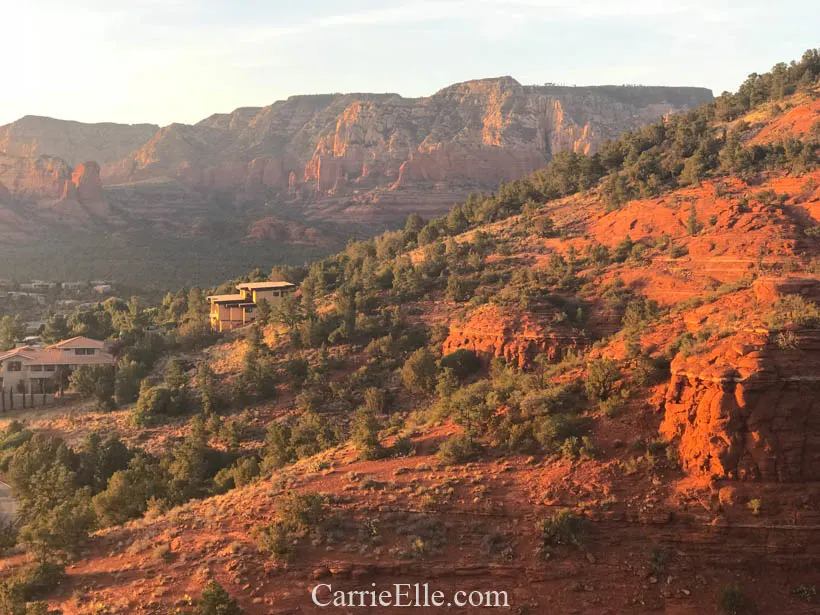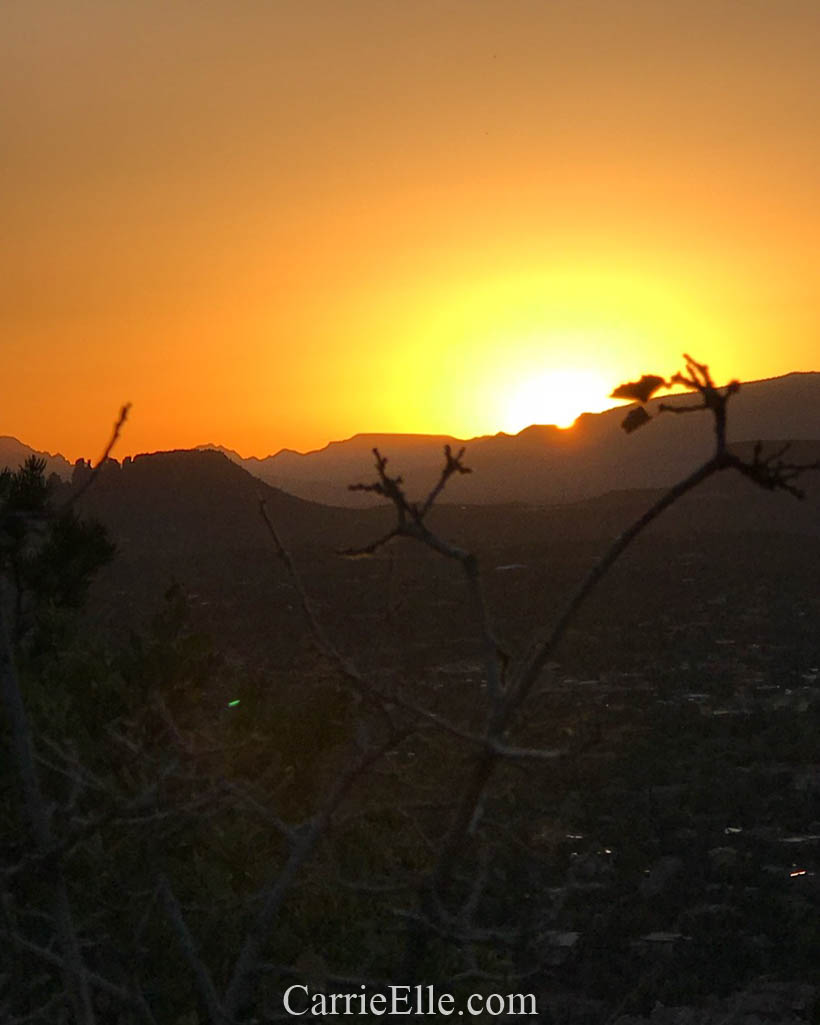 I'd love to share more – there were so many other things we did – but this post ia nearly 1200 words and that's super long, so I'll end this now and maybe come back later with Part Two. 🙂 Let me know if you have any questions – we pretty much did everything there was to do, and then some!
What are you favorite things to do in Sedona?