It's been awhile! This is the first time I've sat down at my computer to publish a recipe in two months – I think that's some kind of record! This easy Texas Caviar recipe has been in my inbox for months. It's my mom recipe and it is SO simple. But with all the craziness we've been dealing with the last few months, I just haven't had the time to share it. Today is the day (my kids sat at the table doing schoolwork while I did this…you can probably catch a laptop in the background of some of these photos)! I hope you will love this 21 Day Fix and Weight Watchers-friendly Texas Caviar recipe!
What is Texas Caviar?
I had to Google this for you guys. When you live in Texas (hand raised!), Texas Caviar – also called Cowboy Caviar – is just something that always seem to be around at potlucks and gatherings. Texas Caviar originated in the 1940s at the Driskill Hotel in Austin, Texas (I've been there, and it's gorgeous). It's made from beans, cilantro, and other veggies mixed in a tangy sauce, and it's served as a dip for chips (but I'm sharing lots of ways to eat it here…including all on its own).
Is Texas Caviar OK for the 21 Day Fix?
Yes! Made with all whole food ingredients, this is a fantastic choice for the 21 Day Fix. However, there are a couple things you need to watch. This recipe is heavy on avocado, olive oil, corn, and beans. If you're not careful, you can really whip through those blue and yellow containers (and teaspoons). I reduced the avocado from the original amount for this recipe to keep it a little more "fix-friendly." You could also reduce the olive oil (make sure to reduce the red wine vinegar, too) and cut the beans and corn down a bit if you're worried about the containers.
Is Texas Caviar OK for Weight Watchers?
This is a great recipe for Weight Watchers! I share the points values for all three plans in the recipe card below. If you want to lower the points even more, you can knock back a little bit of the oil (and red wine vinegar). The highest points foods in this recipe are the olive oil, the avocado, the beans, and the corn. Cutting back on any of those and upping the tomatoes and onions would be a great way to reduce points.
Quick and Easy Ingredient Substitutions
You will often see it with black-eyed peas, but I didn't have any black-eyed peas so I got a little crazy and went without. The original recipe also called for two avocados. Because I was making a calorie-conscious version of this recipe, I went with one avocado. But if you're not looking at the calories anyway, definitely go for avocado number two!
I used green onions, because I had them and I love them. You can sub for a red onion instead (or any onion, of course – but red onions are so pretty in this dish).
Another place where you can really make this to your tastes is with the cumin and cilantro. My mom will make this recipe with 2 teaspoons of cumin and double the cilantro. It's up to you!
To give it some kick, you can cut up a couple of seeded jalapenos and add them to the mix.
How to serve Cowboy Caviar
Traditionally, you'll probably see Texas Caviar served with corn chips. Here are some other fun ways to serve it:
Over chicken, beef, pork, shrimp, or fish
On a salad
On mini sweet pepper "chips" like I did here – I just cut off the tops and then cut them in half, lengthwise, scooped out any seeds, and loaded with the dip!
With crostinis or pita bread
Use it to garnish tacos or fajitas
Serve as a side dish
If you think you might want something a little bit different, here's a grilled corn salad recipe that is similarly versatile that I also think you will love. That recipe is also a great 21 Day Fix and Weight Watchers option!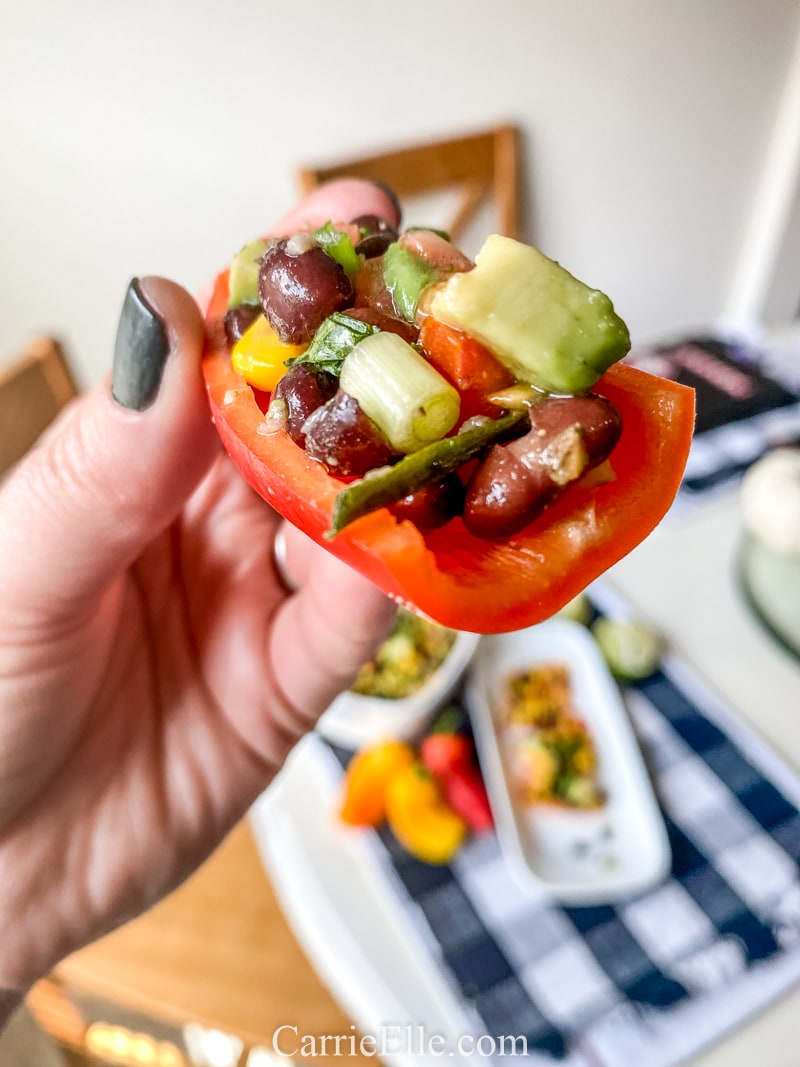 Quick and Easy Texas Caviar
This quick and easy Texas Caviar recipe is perfect for the 21 Day Fix and Weight Watchers. It's a great dip for chips, but there are so many other ways to eat it, too.
Ingredients
1/4

c

extra virgin olive oil

1/4

c

red wine vinegar

2

garlic cloves

minced

1/4

tsp

salt

1/8

tsp

pepper

1

tsp

ground cumin

you can add more if it suits your taste!

16

oz

black beans

drained

15

oz

cans whole kernel corn

drained

1

avocados

rough chopped

1/3

c

cilantro

rough chopped

2/3

c

green onions

chopped

1/2

c

tomatoes

(about 2 medium tomatoes) chopped
Instructions
If possible, make this recipe a few hours or even the day before you need it. The flavors come together really nicely if it has some time to chill in the fridge. If you decide to make it ahead of time, leave the avocados out until the last minute as they will brown and get a little mushy.

If you can't make it ahead of time, that's fine too.

In a medium bowl, whisk together olive oil, red wine vinegar, garlic, salt, pepper, and cumin.

Add remaining ingredients to the dressing and toss until everything is coated with the dressing.
Notes
Serving size is a 1/2 cup. Don't forget to count the chips! They are not included in these counts.
21 Day Fix Container Counts (rounded up/down to the closest 1/4): 3/4 yellow, 1/2 blue, 1/3 green, 1 tsp
Weight Watchers Points
Purple plan: 3 points
Green plan: 5 points
Blue plan: 3 points
Have you made this recipe? Take a picture and share on Instagram or Facebook and tag @carrieelleblog!
Nutrition
Calories:
178
kcal
Carbohydrates:
19
g
Protein:
6
g
Fat:
9
g
Saturated Fat:
1
g
Sodium:
132
mg
Potassium:
347
mg
Fiber:
6
g
Sugar:
1
g
Vitamin A:
194
IU
Vitamin C:
5
mg
Calcium:
22
mg
Iron:
1
mg
Tried this recipe?
Let us know how it was with a rating and review!
I hope y'all love this Texas Caviar as much as I enjoyed making it. It was SO nice to make something for the blog again.