This is a sponsored conversation written by me on behalf of Radio Flyer. The opinions and text are all mine.
Remember when you were a kid, and everything around you was a vehicle for your imagination? I remember being eight-years-old and building a fort in my front yard with some plywood, sticks, and cinder blocks left around the yard from when my dad built our house.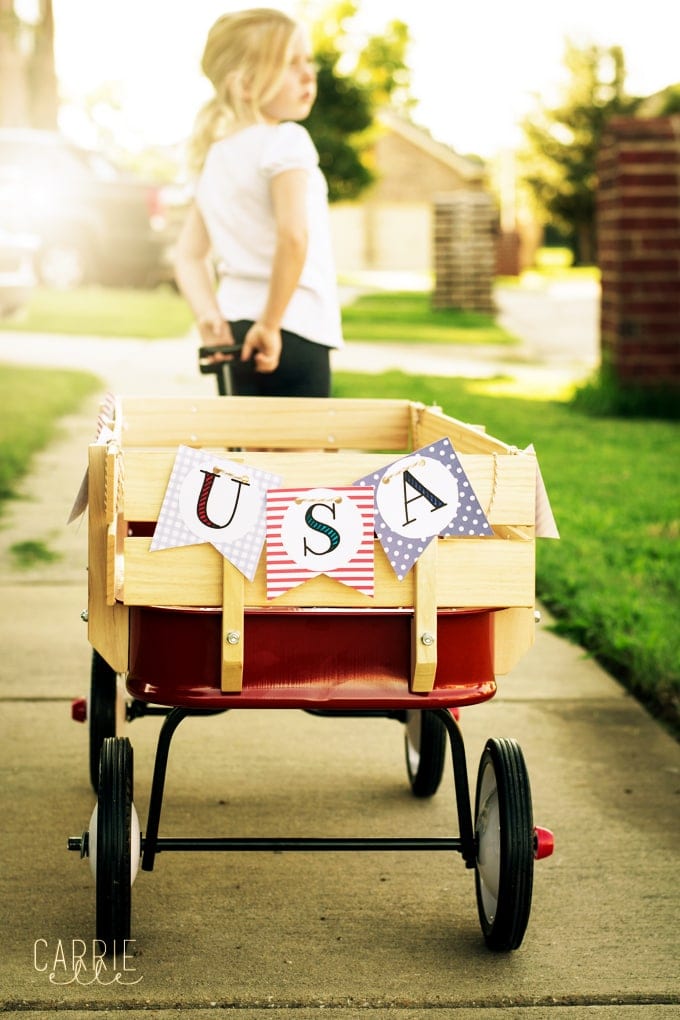 My neighbor, my brother and I all huddled inside our fort, which had just enough room for the three of us and the "bug hospital" I had created using a bucket, some leaves, and a handful of unfortunate bugs. Parked outside was our red Radio Flyer wagon, ready for action.
Those were the days, y'all.
Today's kids grow up in a different world, but that doesn't mean their imaginations are any less than ours were. I love watching my kids play, and as they get a little bit older and we grant them a little more freedom, I realize how very important it is that they play as much as they can, while they can.
The other day, we decorated our Radio Flyer wagon with a printable USA banner. I made it for the 4th of July. Every year on the 4th, we load up and head to a local park, our wagon stuffed with cold drinks, snacks, blankets and chairs. There aren't any presents or fancy dinners, but this holiday has become one of our family's favorites.
We were giving the banner a practice run, and the kids took off down the trail with the wagon…I was immediately transported back into time, when we'd load up our own Radio Flyer wagon with the junk we found on our adventures (scraps of metal! random tennis balls! the youngest sibling!).
For 100 years now, Radio Flyer has been inspiring kids to play, use their imaginations, and explore the world around them. Radio Flyer is committed to great design and innovation, and this has to be why these little red wagons are still popular, 100 years after founder Antonio Pasin dreamed of a wagon that would, "bring joy to every boy and every girl."
And this must also be the reason that when we go somewhere that requires us to bring a lot of stuff, our wagon goes with us.
Hello, 4th of July, I am talking to you – and all the other adventures our family will experience this summer, too.
Kids and imaginations go together like peanut butter and jelly, and the Radio Flyer Adventure Travel Agency, created to inspire imaginations in children of all ages, celebrates just that – imaginations!
Just check out the fun they had at the official Radio Flyer Adventure Travel Agency here.
Because our wagon will be attending 4th of July festivities with us, I wanted to dress it up a bit (normally? I am not a match-my-kids kind of mom…but I make everyone wear red, white and blue on the 4th!). This printable banner is perfect for your own wagon (or your mantel!). Print out as many of each color flag as you'd like. I colored in the letters, but you can also just leave them white. This will print best on card stock.
Download your own printable USA banner below!
To celebrate 100 years of Radio Flyer and the adventures your family will go on this summer, I'm giving away a $100 Radio Flyer credit (eligible towards one of ten Radio Flyer products, including a wagon like the one pictured in this post!) to one lucky reader. Winner will have 48 hours to respond once notified, or I'll draw another winner. Must be 18+ to win. Enter below.
Be sure to join me on Facebook for free printables, meal planning and budgeting help, and easy craft ideas.

Comments submitted may be displayed on other websites owned by the sponsoring brand.
This is a sponsored conversation written by me on behalf of Radio Flyer. The opinions and text are all mine.