It's easy to feel overwhelmed by ALL THE THINGS we have to manage these days. As a wife and mom, there are three people I need to worry about and take care of besides myself, and while I wish I could say I was a born homemaker, that's just not the case. I need help managing everything, and I need tools to make my life easier. Enter these printable prescription refill reminder stickers.
Printable Prescription Refill Reminder Stickers
These rainbow colored stickers are cute and will work in any planner. Use them to remind yourself about prescription refills, whether to remind yourself to schedule the refill or to pick them up! These are great for ongoing prescriptions or even short-term ones (honestly, those can be the hardest to remember if you're not used to them!).
How to use printable planner stickers
New to planner stickers? The only rule to planner stickers is, there is no rule to planner stickers. However, I do have some helpful tips if you're new to printing your own stickers.
You can read a detailed post on how to make your own planner stickers here. That goes into several different ways you can make them, different techniques, etc. But really, it's super simple.
First, save the PDF to your computer by clicking on the download button below or by clicking here. Then, you'll want to print them on sticker paper. If you're going to cut them out yourself, I recommend printing on full sheet labels, such as these, as they will be easiest to peel. Once you've printed them out, you can use your scissors to cut.
If you have a cutting machine, like a Cricut, I recommend using Cricut sticker paper. Quick note: if you're a crafter, and you don't have a Cricut, you probably need one. They are amazing! You can do SO MUCH STUFF with them. OK, stepping off my Cricut soap box now!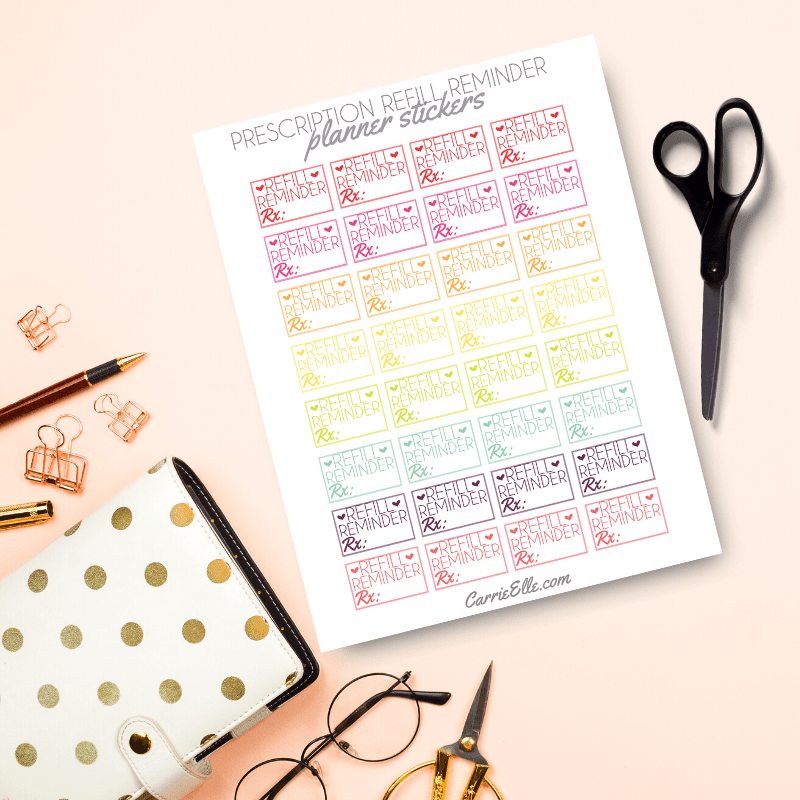 How to download these printable prescription refill reminder planner stickers:
You can download the planner stickers here, or download by clicking on the black and white download button below. If you have any trouble, email me and I'll send you the file directly!
Looking for more planner stickers? You can find them all here.