Netflix has been a source of entertainment for our family for so long now that I can hardly imagine a Life Without Netflix (it hurts to even write that). Between my obsessive binge-watching (OITNB, Every Documentary Ever Made, and all the 90's movies I can handle) and my kids' love of Netflix, it's become one of those things we can't live without.
I'm a member of the Netflix #StreamTeam, which means I'm a Netflix ambassador and get to share all of my binge watching experiences and television obsessions with you, so you can binge watch, too. Get your own printable notebook cover and DIY a fun notebook for the kids, inspired by Netflix and perfect for back-to-school!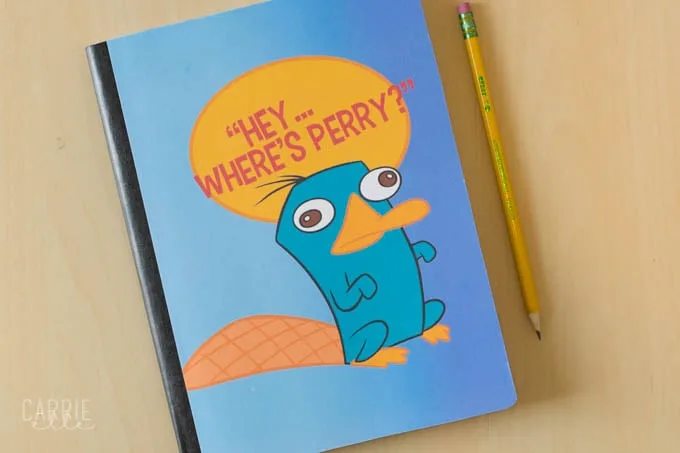 My kids are always picking up little nuggets of wisdom from Netflix. And Claire always seems to have a notebook and a pen by her side (the apple doesn't far fall from the tree, I suppose!). So I made the kids a fun notebook using this printable notebook cover – and encouraged them to write down all the fun stuff they are learning (on Netflix, and in life in general!).
Both of my kids love Phineas and Ferb. It's one of the few shows they will watch together and can agree on when I tell them to pick a show (so, I love it too…AND, it's actually hilarious).
Here's what you need to make your own Phineas and Ferb composition book (which is so perfect for Back to School!):
Printable notebook cover (click on the "download" button below to print)
Mod Podge (any glue would work, but Mod Podge will give you a super smooth finish and it sticks like nobody's business) and a foam paint brush (or regular one!)
Card stock (I've used this brand many times, but my favorite is the 50 page packs you can buy at Michaels)
It's SO easy to put this together – it will only take a few minutes!
Print out your notebook cover – use card stock to make it extra sturdy (and this way, it won't be see-through) and cut it out. I use this paper cutter for basically everything, but you will be fine if you just have scissors!
Apply a thin layer of Mod Podge to the cover of the the composition book (not the paper).
Line up the left side of the printable with the black binding on the composition book (my binding was crooked, so I had to cover a section of it to make my cover look straight). Press the printable cover down onto the Mod Podge and smooth it out so there aren't any wrinkles.
The paper will extend past the actual book cover.
Give it a minute or so to set, then take your scissors and cut off the excess paper.
Do the same thing to the back with the back cover (included in your download), and it's ready to go!
Now your kids can take notes while watching their favorite Netflix shows (or while sitting studiously in class – my soon-to-be-kindergartner is SUPER excited about this!). Speaking of Netflix shows – check out these great Netflix shows for pre-schoolers.
Be sure to follow us on Facebook for lots of free printables!