Welcome, taco lovers. You're in the right place. Except today, we're changing it up a little. Instead of traditional tacos, I'm sharing these low-carb taco cups with avocado salsa, which are both 21 Day Fix and keto-friendly. We leave the tortillas out of the recipe to lower the carbs, but don't worry – you won't miss them with all this flavor!
Low-Carb Taco Cups
You know I always like to start off my recipes with some notes, and this is no exception! Be sure to read these ones because they will help you get the best taco cups possible (and also, I've got some ideas and recommendations for substitutions to make this work for your diet or tastes).
First of all, as you can see by the pictures, the "taco" is really just a deconstructed taco in a cup o' cheese. You can even go so far as to remove the cheese cupes from the ramekins if you'd like, but the ramekins will help it hold its shape.
I used 3″ ramekins for this recipe. You can find the exact ones here. You can also use muffin tins if you don't have ramekins.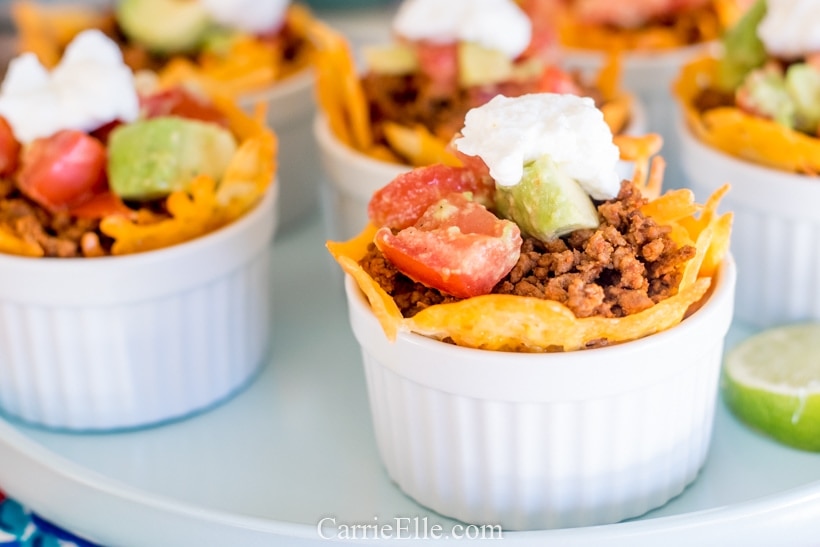 This recipe will make 6 taco cups, and the serving size is one cup per person. These are happy little appetizers and perfect for parties because they are so much fun. You could (and likely will) have more than one, but just note that the nutritional data here is for one cup.
Use quality cheese for these. We used "cheap" cheese for the ones in the pictures here. It's fine – it will work – but the cheese doesn't melt as nicely and has a more rubbery texture than if you use a higher quality cheese. My favorite cheese is Cabot. You'll be fine with whatever cheese you have…but if you have an option for better cheese, take it (always choose the better cheese = a life mantra of mine).
Low-Carb Taco Cup Ingredients (with a few notes in here!)
2 c. Colby Jack cheese, finely shredded, divided (or use cheddar)
1 lb. ground beef (lean – you could also use ground turkey if you prefer)
¼ c. water
1 T. chili powder
1 T. ground cumin
1 t. garlic powder
1 t. onion powder
1 t. smoked paprika
Sea salt and black pepper, to taste
Avocado Salsa:
1 medium avocado, diced
1 small tomato, seeded and diced
2 T. fresh lime juice
1 T. fresh cilantro, chopped (unless you're like me and cilantro tastes like soap, in which case, leave it off)
Sea salt and black pepper, to taste
Optional, to serve:
1/2 c. sour cream (or Greek yogurt if you're on the Fix)
Low-Carb Taco Cups
These low-carb taco cups are so much fun! They're not only super low-carb, making them great for keto, but they're also good for the 21 Day Fix.
Equipment
3" ramekins or muffin tin
Ingredients
2

c

Colby Jack cheese

shredded

16

oz

lean ground beef

or turkey

1/4

c

water

1

tbsp

chili powder

1

tbsp

ground cumin

1

tsp

garlic powder

1

tsp

onion powder

1

tsp

smoked paprika

sea salt

to taste

black ground pepper

to taste
Avocado Salsa
1

avocado

medium, diced

1

tomato

seeded and diced

2

tbsp

fresh lime juice

1

tbsp

cilantro

chopped

sea salt

to taste

black ground pepper

to taste
Instructions
Preheat oven to 250°F and line a large baking sheet with a piece of
parchment paper or a Silpat® baking mat. Set aside.

Divide 1½ cups of the shredded cheese into 6 piles (approximately 1/4
cup each) on the prepared baking sheet and spread each pile into a thin
circular layer. Place baking sheets in the pre-heated oven until the cheese is
melted and slightly browned around the edges, around 5-6 minutes. Keep an eye on it.

Remove from the oven and let cool for 2-3 minutes, then gently peel off the
cheese and press into 3" ramekins or a muffin tin to form cups. Let cool for
several minutes before gently removing the cheese cups from the form.

Note: If using ramekins, the taco cups can remain in the container for extra support when serving. 

In the meantime, add the ground beef to a large skillet over medium heat
and cook until the beef is browned and cooked through, approximately 6-8
minutes. Carefully drain excess grease from skillet and return to cooktop.

Add water and season with chili powder, ground cumin, garlic powder, onion powder,
and smoked paprika. Season with salt and black pepper, to taste, and stir to
combine. Simmer for 2-3 minutes or until warmed through.

While the beef is cooking, combine the avocado, tomato, lime juice, and
fresh cilantro in a medium bowl. Season with salt and black pepper, to taste,
and gently stir to combine.

To serve, fill the taco cheese cups with beef, avocado salsa, and
remaining shredded cheese. Top with a dollop of sour cream, if using, and enjoy!
Notes
21 Day Fix Container Counts (1 serving = 1 cup, with the following toppings: 2 tsp avocado salsa, 1 tbsp Greek yogurt): 1 blue, 1 (almost) red
Have you made this recipe? Take a picture and share on Instagram or Facebook and tag @carrieelleblog!
Nutrition
Calories:
384
kcal
Carbohydrates:
8
g
Protein:
28
g
Fat:
27
g
Saturated Fat:
14
g
Cholesterol:
99
mg
Sodium:
359
mg
Potassium:
613
mg
Fiber:
3
g
Sugar:
2
g
Vitamin A:
1349
IU
Vitamin C:
8
mg
Calcium:
349
mg
Iron:
3
mg
Tried this recipe?
Let us know how it was with a rating and review!
Get crazy with the toppings! Onions and even some iceberg lettuce, finely chopped, would go well on these low-carb taco cups! Serve with beans and rice.
With this recipe, you can move forward with your low-carb ways and still have tacos (well, almost-tacos).
Enjoy!