I want to share the super-easy and kid-friendly breakfast parfaits I made this afternoon. It's kind of awesome having tomorrow's breakfast all prepped and ready to go for tomorrow morning!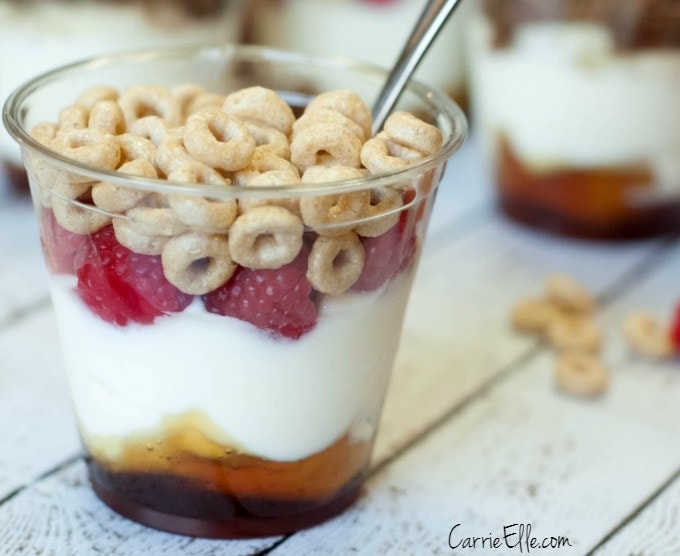 Last week, as I was meal planning, Jack asked if we could please have Market Street Mac & Cheese for dinner one night. Actually, his request was much more specific.
"Can we have Market Street Mac & Cheese for dinner, and then I can take some cold in my lunchbox to school the next day?" he asked.
I thought that sounded like an amazing idea.
When he was at school one day, I took Claire to the Allen location and we took pictures in the pumpkins, bought lunch, and brought home a giant tub of the Macaroni & Cheese for dinner that night (and lunch the following day!). I also picked up a few other things while I was there. I had been on the Market Street website looking at their breakfast ideas (they have a bunch of ideas for clever ways to use cereal and oatmeal for inexpensive, wholesome breakfasts…you can see the Market Street breakfast ideas here), and I got it in my head that I'd make some parfaits for the kids to have at breakfast. They love yogurt and they love cereal…what a perfect way to start the day.
Here's what I used for my parfaits:
Honey
Greek yogurt
Fresh fruit (I used rasperries and bananas)
Cereal (I used Cheerios and a chocolate rice cereal)
Inexpensive plastic cups
Foil to cover them (so you can store them in the fridge)
Here's how I made them:
Fill the bottom of the cup with honey (based on your honey preferences)
Add yogurt (I used a regular spoon, and each cup has about three heaping spoonfuls)
Add fruit (I used a layer of raspberries for some, and a layer of sliced bananas for the others)
Top with cereal of your choice
These were a serious hit! I will be short two tomorrow morning, because the kids already got into them…and loved them.
Here's what else is going on at Market Street this month:
It's pumpkin time! The Market Street Pumpkin Patch displays are up, and just begging you to plop your kids down next to them and take some cute photos (I certainly couldn't resist).