Happy Friday, y'all! It's Danielle again from Busy Mom's Helper and I'm super excited for today's post, because I get to share something that could seriously SAVE YOUR DISNEYLAND VACATION. Think about it, one of the most stressful parts of a magical trip to Disneyland is all the waiting, right? Every few minutes in line for rides, before the parades or fireworks, even waiting for the park to open in the morning the kids are nagging 'how much longer?'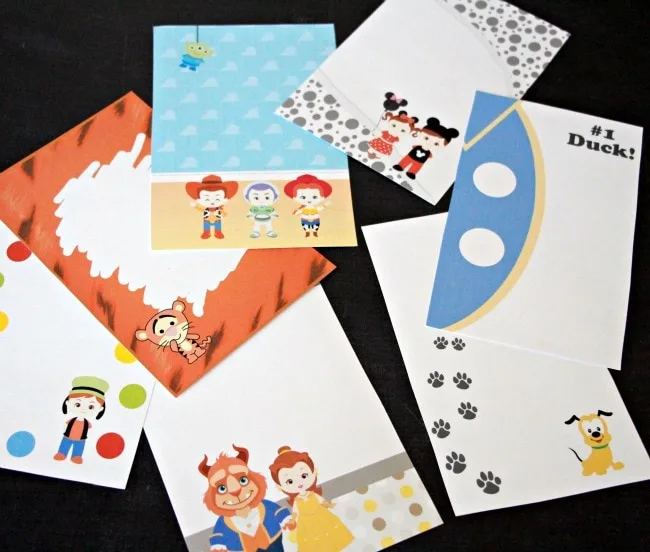 I even get a bit stir crazy, so can only imagine their boredom! We've created the perfect thing to save the day – our 'Unofficial' Disneyland Activity & Autograph Book!
This book – designed specifically for Disneyland and California Adventure – has everything you need for a happy vacation! All that waiting will now be filled with fun activities: puzzles, word search, matching, trivia and jokes, even designing your own Tarzan's treehouse or superhero outfit! Plenty of variety to keep even shorter attention spans happy.
Even Thor had a blast with our book, and enjoyed one of the fun pages with his new pal…
No more boring autograph pages, either – this book has more than 20 creatively designed pages to nab signatures from your favorite characters! Themed after classics like Goofy, Pluto and Mickey, princesses like Ariel, Rapunzel and Elsa, and even spots for Darth Vader and the Avengers!
Donald was THRILLED at his '#1 Duck' page…
Vacations are all about memories, right? Keep these magical memories for years to come – with plenty of keepsake pages such as filling in your child's favorite rides, foods and moments, funny things that were said, who was there with you, and even a page for drawing their favorite memory from the whole trip! Don't forget to help them trace their handprint on the special page so you can remember how big – or little – they were!
Imagine how much fun they'll have completing the ride checklists – conveniently divided into 'lands' – as they experience each one. We've even included the height requirements to make YOUR life that much easier 🙂
You can nab our Disneyland Activity & Autograph book in PDF form for just $4.99 right now – then print it off and enjoy during your next visit to Disneyland or California Adventure! Are you going during Spring Break? Maybe hitting the summer rush? Or perhaps waiting until the fun holiday season? Whenever you go, don't forget to bring along this fantastic kid's activity book to keep everyone happy!
Note: printed books available on Amazon!