The holiday season is upon us (already!), and I can't be happier. I love this time of year. It's the one time of year I want to attend all the events and go to all the places. Over the years we've attended so many Christmas and holiday events in Dallas – I thought I'd dedicate a post to our favorite things to do in Dallas with kids this holiday season. I'm going to share the activity and a couple "need to know" items about each event.
*UPDATED for 2022!*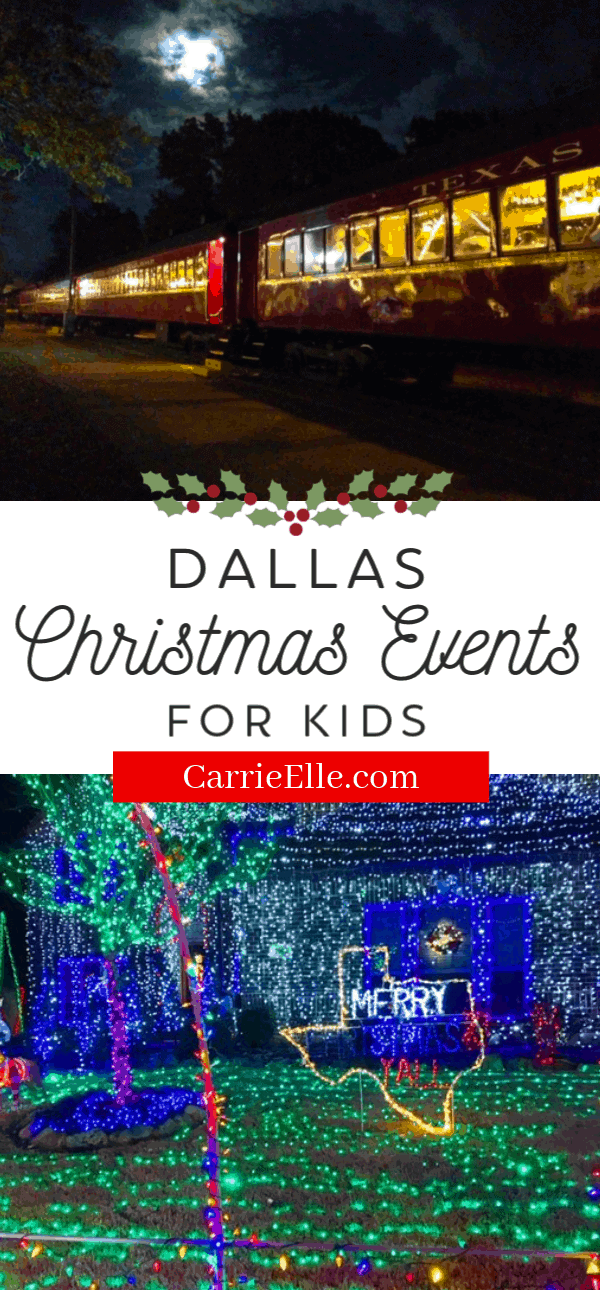 Things to do in Dallas with Kids for Christmas
Holidays at the Arboretum – With the Arboretum's 12 Days of Christmas exhibit and the Christmas Village, the Arboretum remains one of my favorite places to take the kids. Mostly I love it because it's outside and they can run around, but I also love the details that go into any event the Dallas Arboretum puts on. This is a great place to take family if you have out-of-town visitors. Because it's outside, it can get cold, so dress appropriately! They have several events that take place at night, which definitely ups the Christmas magic.
If you can go during the day and leave the kids at home, I 100% recommend the seated Holiday Tea (this is something I love to do for my birthday and my mom's birthday, which is a week after my own)! Reservations are required.
Dallas Zoo Lights Presented by Reliant – Love, love, love this Christmas-y event at the Dallas Zoo! The animals are asleep…but the lights are out. And if it gets cold, step into the reptile house…it's nice and warm and full of nocturnal creatures ready to party!
Visit Santa at Northpark – There are lots of great Santas in town (pro tip: the way to avoid a long line to see Santa, no matter where you go, is to get there early in the day and as soon as he arrives…in November, if possible). But we always extra loved the Northpark Santa. He's the real deal. And Dallas will agree, because you have to get tickets to see this Santa! Totally worth it though for the amazing pictures you'll have…this guy is legit. Also, Northpark becomes a Christmas wonderland that is fun to visit with the kids (annnnnd, it's indoors, so you can stay warm). Also, there's another thing to love about Christmas at Northpark and that is…
The Trains at Northpark – This is a must-do if you have little kids or a train lover of any age. It's a magical world of miniature model trains. This is a seasonal exhibit at Northpark so you can only see it for a few weeks each year!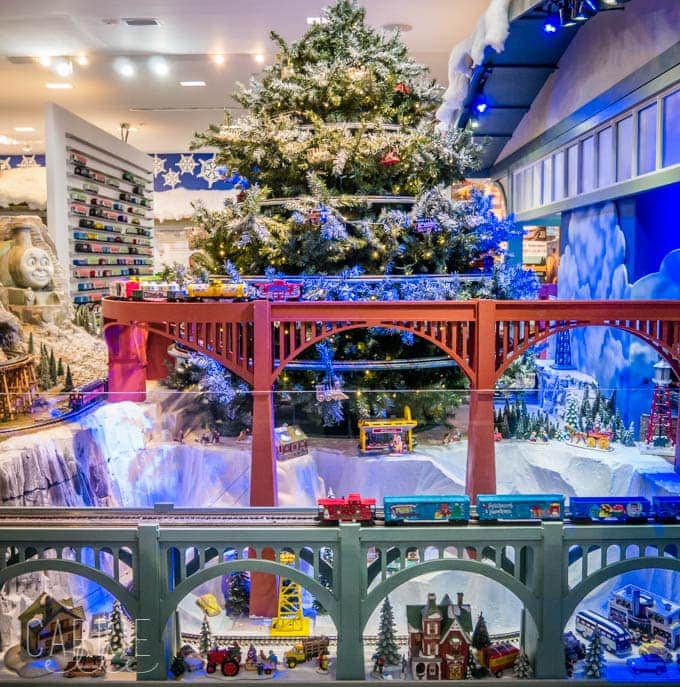 Prairie Lights – Located in Grand Prairie, Prairie Lights is a drive-through light exhibit with millions of lights and a chance for everyone to get out and stretch their legs in a fun Holiday Village. There is a really long line to get in (you wait in your car), but this year I see they're selling Fast Passes, which you might spring for if you have little ones that don't do well sitting in the car. They also have carnival rides and walk-through light displays, as well as their famous drive-through display!
ICE! at the Gaylord Texan – A magical winter wonderland made entirely of ice, ICE! is a very popular Dallas event. It's pretty amazing to see the giant figures carved of ice. It's also very cold and the lines can be long (and it can be crowded!). So my pro tip is to, again, visit early! We've also visited on the last day it was open, and avoided crowds that way, too…but they were starting to clean up the Christmas decorations and it lacked some of the Christmas magic and charm. Dress warm – they'll have a jacket for you to borrow, but trust me whenI say baby it's cold inside. There are lots of other fun Christmas activities that take place at the Gaylord, like ice skating, holiday shopping, gingerbread house making, pictures with Santa, etc. It's a great way to spend an evening (or a whole night!). The activities all have individual costs associated with them.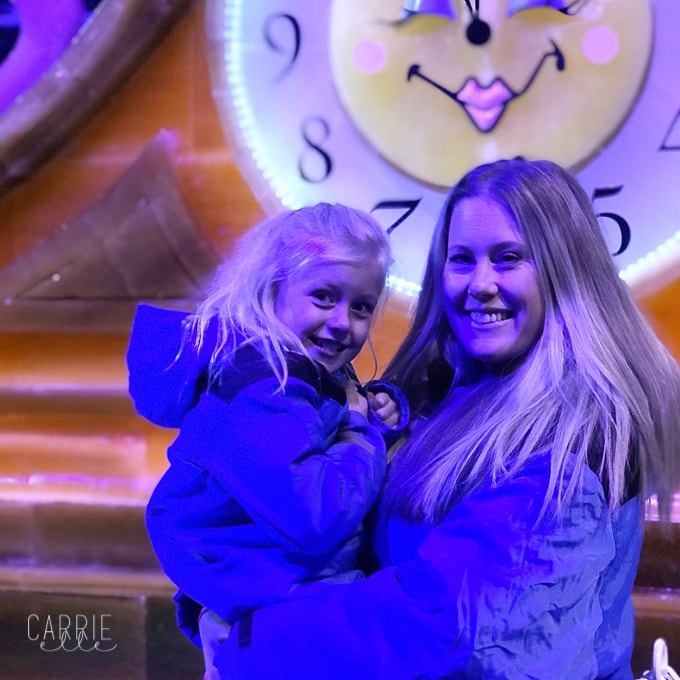 Ride the Polar Express – There are a couple of options here, and I am going to recommend the one that is in Palestine, TX. We've done the Palestine one and the Grapevine one and they're both fun…but the Palestine one is extra magical. You need to buy tickets way in advance for this, so get them soon.
Santa's Village in Richardson – Santa's Village is a fun outdoor event for those of us in the North Dallas area! It's important to note that certain days are for Richardson residents only, so check the calendar before you go! Kids can explore Santa's Village, meet Santa, and enjoy hot chocolate and sweet treats at this activity. A highlight for my kids was meeting Mrs. Claus!
Dallas Symphony Christmas Pops – Last year we took the kid to the Dallas Symphony Christmas Pops, and it was a ton of fun. We went on my birthday and the kids, who thought they most definitely would not like to see the symphony, ended up loving it. There are lots of different shows to see. The Christmas Pops show, that we watched, was fun and interactive – and Santa made an appearance!
Holiday in the Park at Six Flags – It can get crowded, but it's also magical! Six Flags puts up so many lights…and there's something perfect about Christmas lights, hot chocolate, and roller coasters! This time of year they often have really good deals on season passes for the coming year, so it's a great time to grab your season passes (which make great Christmas gifts!).
See the Christmas Lights in Highland Park – The Highland Park neighborhood is gorgeous and they do not mess around when it comes to Christmas. We love taking the kids here to see all the lights. They're amazing! And this activity is free (although we usually do dinner in the area and grab some hot chocolate for the drive). You can also hire a horse-drawn carriage to take you through the neighborhood!
Here's a list of where to see the best Christmas lights in the Dallas area.
What did I miss? Let me know in the comments below!