These easy party appetizers will make your party planning a breeze. We all know how much preparation it takes to throw a party. Learning to cut back on the prep work can help ease that load tremendously. Our list of easy party appetizers will give you some delicious bites to eat to serve to your guests while saving you some time.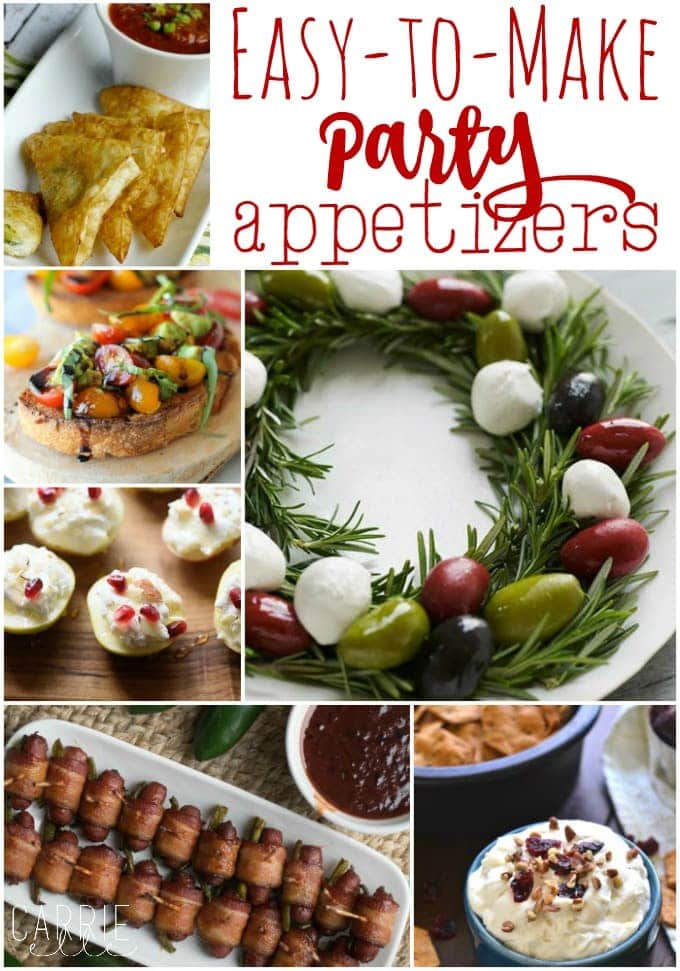 Sweet Glaze Bacon Jalapeno Little Smokies: Sweet and spicy! The ultimate flavor combination.
Apple Cheese Bites: These no bake appetizers are so easy to put together. The pomegranate topping gives them so much flavor along with a festive look.
Crunchy Deviled Eggs: A traditional appetizer with a small twist. Deviled eggs are always a crowd pleaser.
Avocado Bruschetta with Balsamic Reduction: This recipe is a great example of how to dress up a simple recipe, without going overboard.
Pears and Blue Cheese Appetizer: What a fancy way to dress up pears for an appetizer.
Easy Spinach and Kale Dip: After all, you cannot have a party without dip!
Stuffed Baby Bella Mushrooms: These little gems are a must serve at your next party. They are so delicious.
Cucumber, Goat Cheese, and Bacon Appetizer: This appetizer uses cucumbers in place of crackers which makes for a refreshing bite to eat.
Vegetable Cream Cheese Bites: This appetizer is full of color. It is the perfect appetizer to place on your table at your next party.
Easy Salami Appetizer: With the help of some toothpicks, you can use salami as a wrap that holds pepperchinies and cream cheese.
Holiday Antipasto Wreath: I think this one might the easiest one yet. All it includes is olives, mozzarella, and rosemary set onto a plate in the shape of a wreath.
Maple, Pecan, and Cranberry Dip: This dip is absolutely perfect for Holiday parties.
Spinach Balls: Easy to make and packed full of nutritious spinach.
Roasted Pepper Cheese Bites: Topping crackers with cream cheese, pepper, and basil is so easy and oh so yummy.
Another great party idea is to serve a few different appetizers as the main course. Serving just appetizers at your party will please a variety of taste buds. It also gives the host an opportunity to cut back on the hassle of prep work, cooking, and clean up.
Do you have any easy party appetizer recipes to share with us?