Awhile back, I realized that this site was getting a lot of google searches for cute weight loss printables (I have several, and I'll link to them a little further down). But seeing the searches made me feel like I was missing something…like there was something better, and more comprehensive, that I could make that could help people with all kinds of different wellness (and weight loss, or weight gain!) goals. So, this Wellness with Love printable wellness planner is the final product of many thoughtful hours, lots of love, and even suggestions from y'all. I hope you love it.
Printable Wellness Planner
First of all, I called this planner "Wellness with Love" because I think we have all grown up in a society where wellness is still a new idea, and has followed very closely on the heels of society telling us to look a certain way. But what I have learned is that while results are fun, what's really important is the process.
When I approach wellness and exercise and my gratitude practice as a process, and let go of the need to be driven by results, it changes everything. I have learned to focus on the process – the day to day, which can be making sure I go for a walk, or making myself sit down and track my habits. This is so freeing, y'all. Instead of worrying about the results (or not seeing any) – I just enjoy the process.
I have learned that when I do all things with love, all things turn out ok.
My hope is that if you want to lose weight, or gain weight, or just work on some healthier habits, you will do so with love. You will focus on the process and the lessons there rather than the results. So yes, these are some cute weight loss printables – but let's enjoy the journey, y'all.
OK – on to the good stuff.
How to Use Your Printable Planner
This planner comes in two sizes – 8.5×11 and also Classic Happy Planner (7×9.25). You can download the 8.5×11 version here. You can get the version sized for the Classic Happy Planner here (as I write this, I haven't actually written that post yet…so if I forget to come back and insert the link, or if I haven't posted it yet, you can shoot me an email and I'll get you the file!).
First you'll want to download the file (which you can do by clicking the big black and white "download" button towards the bottom of this page, or by clicking here).
Go through the files and pick out the pages you want. Print out those pages (you may just want a few of them – print as many as you need to get started). You can keep them in a folder if you don't have a hole punch, or punch holes for a 3-ring binder or BIG Happy Planner. You can also add divider tabs if you want to section your planner off into things like monthly planning, daily tracking, etc.
I'll share some of the tools I use here:
You can download your wellness planner here.
What's Included in the Wellness with Love Planner
Cover Page
Monthly Calendar
Annual Appointments Calendar
Wellness Plan Worksheet
Daily Tracker
Goal Finder
Wellness Vision Board Template
Goal Trackers
30 Day Challenge Tracker
Breakfast, Lunch, and Dinner Meal Planner
Circular Habit Tracker
Weight and Measurements Tracker
Wellness Journal Prompts
Wellness Journal
Planner Stickers
I love all of these pages
Looking for other cute weight loss printables?
Try these:
This Wellness Vision Board template is a nice, guided tool if you're new to vision boards or looking to create one specific to wellness. Be sure to get the wellness affirmation cards to go with it.
If you're on a specific weight loss program, like the 21 Day Fix, you can download these free 21 Day Fix recipe cards (they work with any of the Portion Fix programs) and this printable 21 Day Fix Meal Planner.
Doing Weight Watchers? There's a printable weekly meal planner for that, too!
You can download your Wellness with Love Planner below. Let me know if you have any questions or issues with the file and I will be happy to help!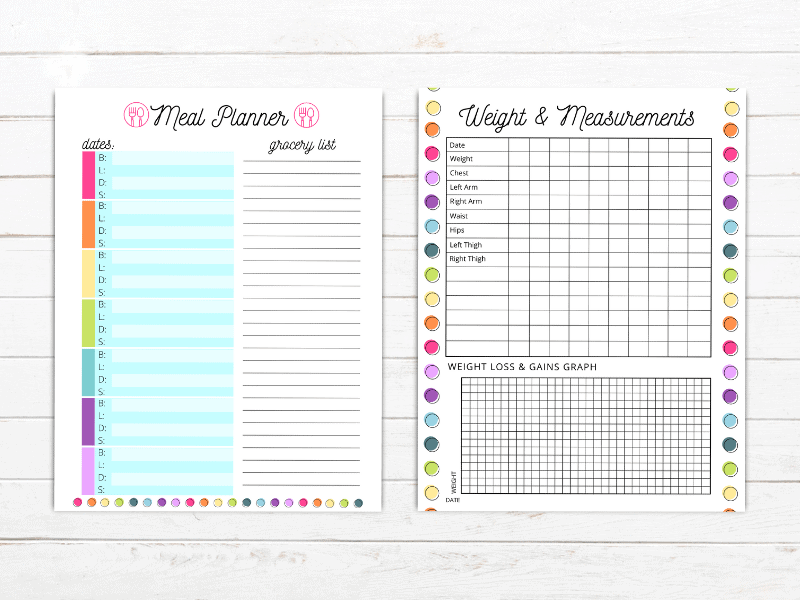 Button not working? You can also download the planner here.