A vision board can help you clarify your goals, establish a plan to reach your goals, and then give you a valuable place to check in with and reconnect with your goals throughout the year. You guys, I love vision boards – for these reasons, but for other ones, too.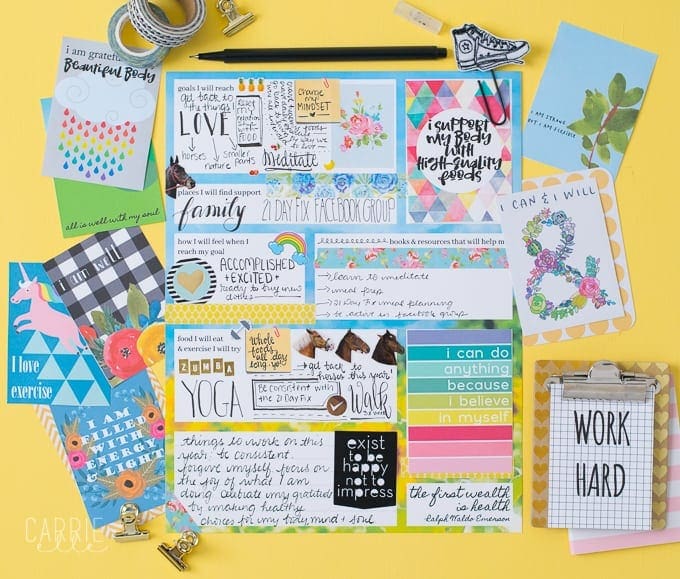 First of all – a vision board can be whatever you want it to be. You can read this post with vision board ideas and inspiration to help you get started if you're totally new to vision boarding (you can also check out my vision boarding book, Make Anything Happen, when it's available this summer – woohoo!). Some people like to create one big, all-encompassing vision board. Others like to break it down into topics they want to focus on.
I created this printable weight loss vision board template to help you (and me!) chart out your weight loss and wellness goals for the year.
Weight Loss Vision Board Template

There are lots of ways to use it. I've included guided topics to focus on, but you don't have to stick to these topics at all. You can cover the ones you don't like and make your own (use stickers or washi tape for this). You could also just take the format, or what you like from this one, and use it to create your own on another piece of paper.
This vision board template is 8.5″ by 11″ – the perfect size to stick in a binder or your planner, if it's big enough. In the past, I've kept a similar vision board in the back of my planner.
You'll notice there are some affirmation cards attached to the vision board. I created these printable weight loss affirmation cards to go with this vision board (and any other vision board template I make).
I've filled this in using a variety of mixed media – stickers, handwriting, doodles, and quote cards.
Your vision board does not need to look my vision board. It's perfectly okay to just write in a few words for each section, or use stickers. You can even cut out pictures from magazines (I do this alllll the time), or use your own photos. The trick is to not let yourself get hung up on how it looks so much as what it says…it should speak to you, and be something you can look back on all year.
But with that said…you can also use this to make short-term goals. If your long-term goal is to lose 50 pounds, this might just represent the first little leg of your journey. You can make as many of these as you need to! I make a little vision board every month in my planner (just a little one…nothing difficult). I also like to sketch out ideas and dreams in my bullet journal.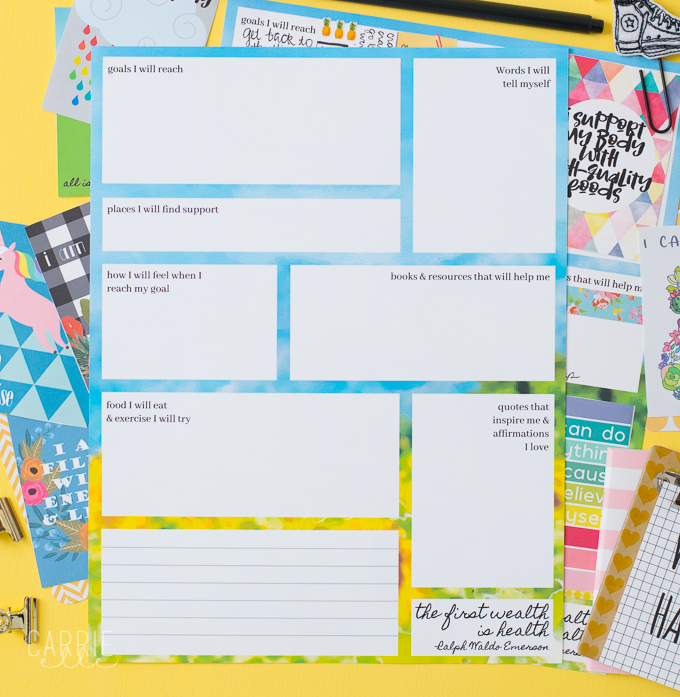 You can download your weight loss vision board template below.

And while we're talking weight loss…I want to share some resources for you. There are a million ways to lose weight, as I'm sure you know. I believe that most of them will work, if you're consistent. But I have really fallen in love with the 21 Day Fix. You can read about my experience on the plan here. This website is full of 21 Day Fix recipes and content to help you succeed on the Fix.
I've also got quite a bit of Weight Watchers content (this is another program I have tried and believe in). Start here with my most popular Weight Watchers post if you're looking for healthy recipes.
Join us on Facebook for more vision board help, tons (tons, y'all!) of healthy recipes, and free printables.
And be sure to check out the posts below – I think you'll like them, too!