A vision board can change your life. It can clarify your goals and dreams and give you direction. It's a tool of intentionality that can direct us, inspire us, and help us discover our creative selves. And it's not only for grown-ups…vision boards are for kids, too! This printable vision board template for kids is a great way to help kids explore their dreams.
Get a free printable vision board it – for kids or grown-ups – here.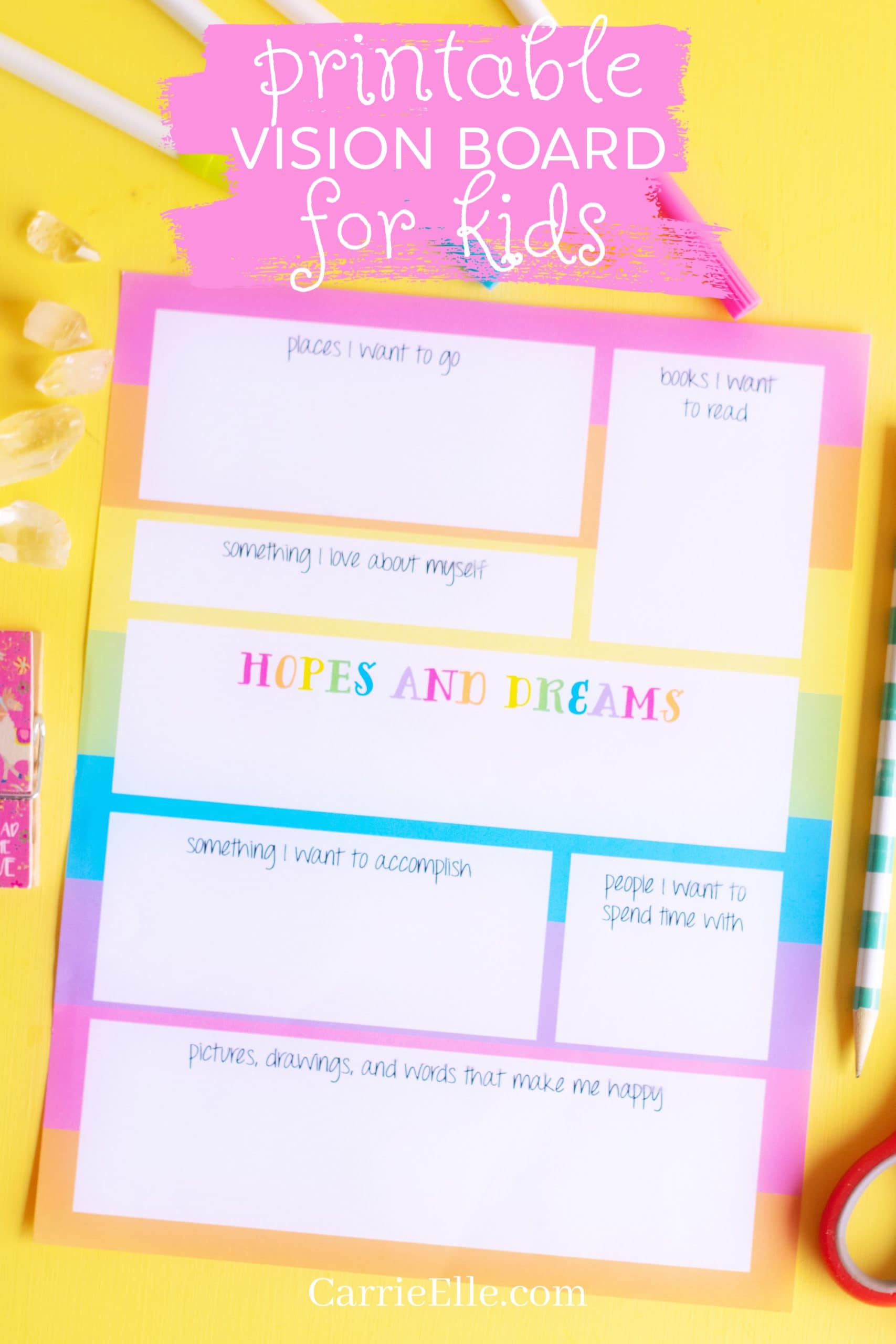 Printable Vision Board for Kids
I'm going to talk more about vision boards – specifically as they relate to kids – in this post. But if you want a lot more, you can grab my book, Make Anything Happen, which is all about the art, science, and then the follow-up process of vision boarding.
Can kids make vision boards?
YES! Kids can definitely make vision boards. A vision board is a creative space to make dreams, ideas, and goals feel more concrete. While I don't think kids need to stress about reaching their goals at this point in their life, it's a really fun way for them to express their dreams and start being intentional from a very young age.
What size are vision boards?
You can make a vision board any size you want! The template provided here is 8.5″ x 11″.
What supplies do you need to make a vision board?
The great thing about vision boards is that they are a creative space. There are no limits or rules to what it should be, look like, or include. The sky is the limit! This printable vision board template for kids is a good place to start, though. The prompts encourage kids to be creative and intentional.
I would recommend some colored pencils or markers, stickers, and a few magazines to get started. Kids can cut pictures out of the magazine that are relevant or inspiring to them and glue them onto their vision board.
You can print this on regular printer paper or upgrade to cardstock for a sturdier surface.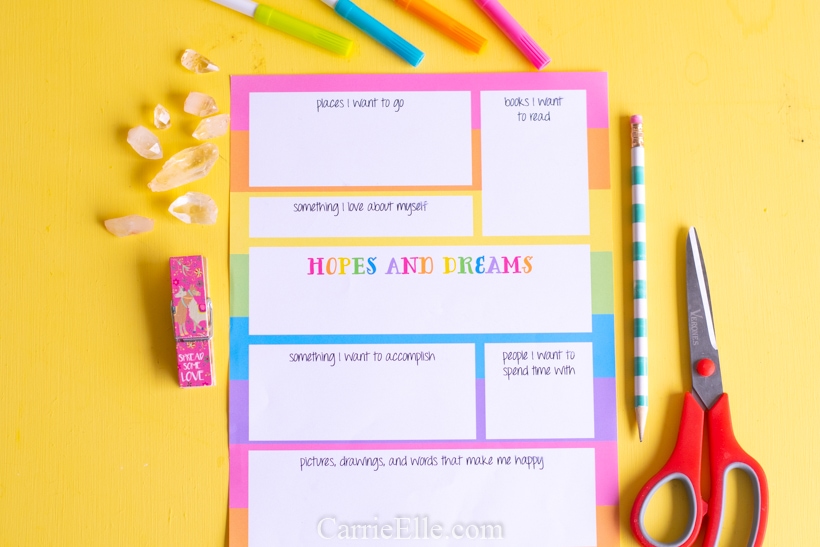 What should kids include on their vision boards?
The beauty of this template is that it's guided and has some ideas. However, tell your kids they are more than welcome to cover up the prompts they don't like and make this their own. They should include things that make them inspired and happy. Older kids can also include some goals on their vision boards.
Here are some ideas:
Places they want to visit
Things they want to experience
Foods they want to try
Books they want to read
How they want to feel
Where should kids put their vision board?
This depends on the size of the board, and the kid! This template is the perfect size to stick in a binder or go on a wall. Some people like to make bigger vision boards and hang them on a wall, or smaller ones to keep in their planner. The important thing is to keep it where you will see it.
What should kids do with their vision board after it's made?
For a vision board to effective, it needs to utilized! The most important thing I tell adults is to check in with it periodically, and I would say the same goes for kids. Also – if something isn't working or no longer feels right, it's okay to change it. Vision board revisions (and goal revisions, in general) are totally okay.
A couple other notes…
Sometimes I get asked if my printables can be used in a classroom, and the answer to that is YES. Most definitely.
If you would like help getting the prettiest printables possible, read this post.
Have trouble with this download? Email us at [email protected] and we'll send it right over.
Want more vision board help and free vision board printables? I have so many! Check out these favorites:
Download your free printable vision board template for kids below. Email us at [email protected] or message me on Facebook if you have any trouble with the files.


If you make a vision board with your child, you'll have to let me know. I love hearing about it and being inspired by your ideas and what you create!