I have always been a letter writer. Mail is one of my love languages! How fun it is to get some good, old-fashioned snail mail, right? Letter writing is great for kids, too. Writing letters is a great way to practice handwriting while brightening the day of someone you love at the same time. My kids regularly send letters to their traveling Memaw (my mom, who is a full-time RVer). I made this printable Halloween stationery for them to send next!
Printable Halloween Stationery
This stationery is perfect for adults or kids. It's designed to print on 8.5 x 11 paper, and it's got lines to make it easy to write on. The lines are spaced nicely for young writers (or grown-ups like me, who like to write with big, loopy letters).
What paper works best for printable stationery?
This prints just fine on any regular paper you have for your printer. My personal preference is a heavier weight paper, like a 70lb text, but you will be fine using whatever you have. I don't recommend cardstock because it's more difficult to fold and might be heavier to mail due to the weight. Just regular old paper works great.
More Printable Stationery
Are you looking for more printable stationery? Here are several gorgeous options that you can print from the comfort of your home (many of these include envelope templates, too!).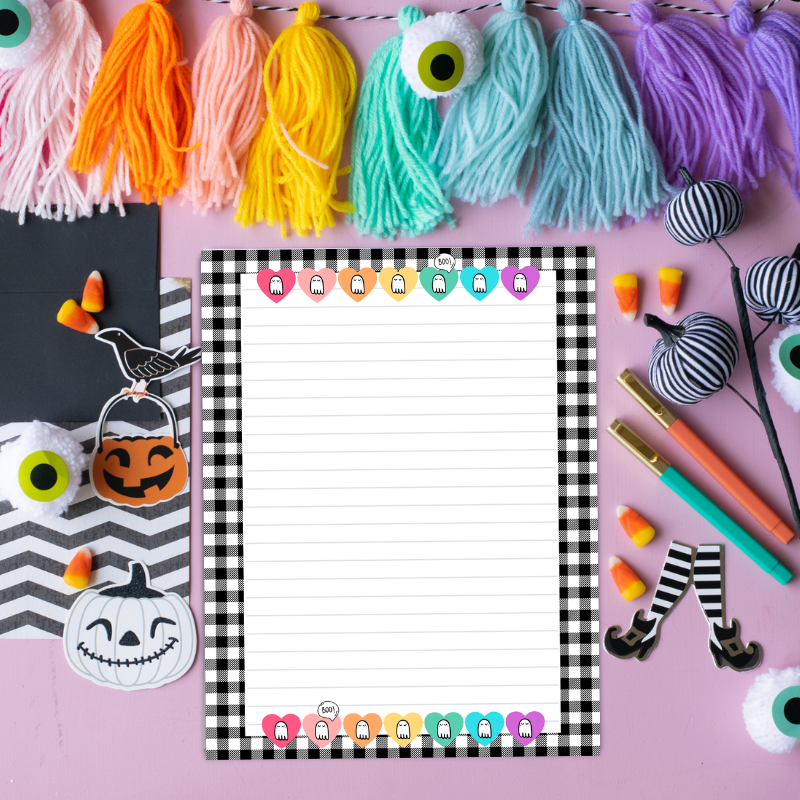 How to download you printable Halloween stationery:
Click here to download your free printable Halloween stationery! Or, you can click on the black and white "download" button below. If you have any trouble, let me know and I can send you the file directly.