This post originally appeared on Eighteen25.
October October October October!! OCTOBER! It's finally October. Today I've got some really cute printable 8×10 October wall art for you. Because October. 🙂
But really, what's not to love about this amazing month? Cooler days (finallllly, says the Girl Who Lives in Texas), pumpkin everything, and of course xour almost-favorite holiday, Halloween (aka, the Gateway to Christmas).
Printable 8×10 October Wall Art
You know, I didn't love Halloween as much as I do now when I was younger. But the older I get the more I appreciate this holiday…and the more I feel like I relate to it!
This printable 8×10 wall art has a favorite fall quote of mine. "I'm so glad I live in a world where there are Octobers," said L.M. Montgomery (we can trust her because she wrote Anne of Green Gables). What a great sentiment, right?!
You can use this printable so many ways. It's created as an 8×10. I recommenr printing on card stock. If you need help printing beautiful, pro-quality printables, I have a whole post about how to get the best quality prints possible here. You can frame it in a cute frame, like this one, or even just stick if on a clipboard! It's so versatile and easy to use.
This printable wall art is perfect for fall, Halloween, parties, and even classrooms.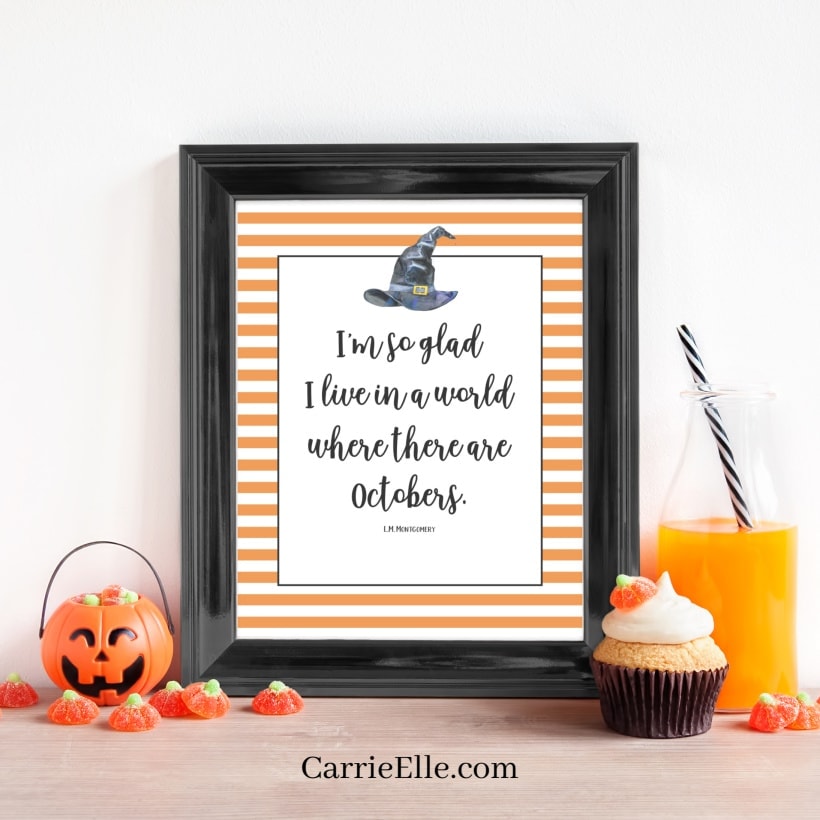 You can download it by clicking on the black and white "download" button below.


I hope y'all love this fun, free printable as much I loved making it! And most of all, I hope you have a very happy fall. And speaking of fall, and Halloween, and candy, and all that fun stuff…I think you might also love these fun Halloween-inspired printables (just click on the photos to go right to the posts!).