Remember how exciting it was to get a new diary as a kid? It wasn't just me, right? New diaries are cool!
My kids have reached the ages where they think diaries are cool, too. They totally get the concept – a private book to write down whatever you want inside. Claire is way into diaries right now (and journals, and planners, and writing stories – SO MY KID).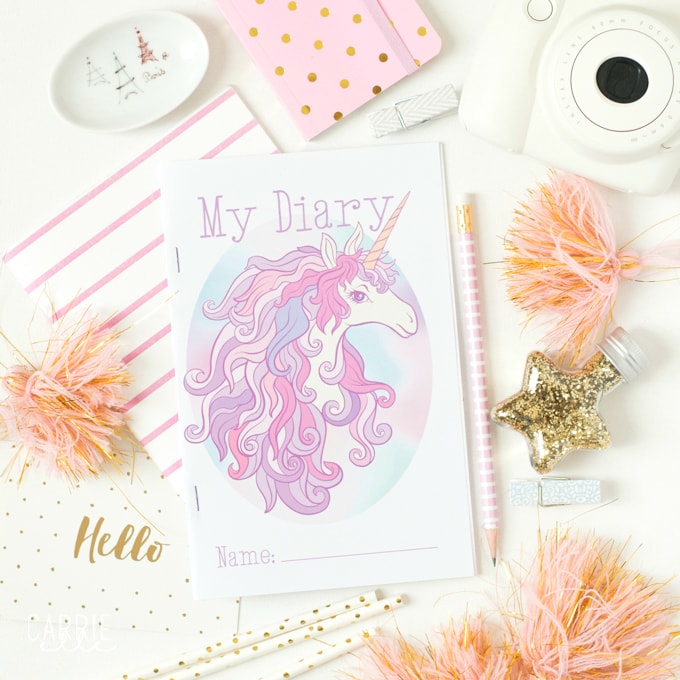 One of her favorite shows to watch has unicorns, and that show inspired this printable diary template.
Unicorns are so magical and fun. They're the perfect subject matter for a diary which is where we keep all of our most magical ideas and thoughts, right?! It seemed fitting…and cute.
Printable Diary Template
The great thing about this printable diary template is that you can always make more copies. Have an avid writer? Make one for each month / season and keep them labeled. One day it'll be so much fun for your kids to flip back through these and see what they were thinking and feeling at those times in their lives.
Printable diaries are such a cool idea too because let's face it…kids lose things…or lose interest in things…if you are worried about your little ones spending money on a diary and then seeing that wasted, just use a printable diary template like this one!
How does a printable diary template work?
This is a really great diary for kids because it's a simple layout. If you have kids who are interested in your planners and printable goodies and you want to keep them out of that stuff…this is a great way for them to have their own!
You can download the printable file right here and it will save as a PDF. Check your downloads folder or wherever your computer saves files from the internet. You can also download the file by clicking the big black download button at the bottom of this post!
How to make a printable diary planner:
First you'll download and print the pages. You can print the number of inner pages you want based on the how many pages you want in your diary (and maybe also based on how many your stapler can tackle).
There are two types of pages for the insides – lined and framed blank pages. I printed out five lined pages, then five framed ones on the back of those same pages. I printed the cover on card stock so that it would be a little bit more sturdy. You can print whatever insides you'd like, or even just fill it with blank paper.
If you want to make a bigger diary you can always use a hole punch and thread through some ribbon or use some brass brads to hold it all together and keep it looking adorable and on theme!

Looking for more awesome printable goodies that are rainbow themed and adorable?
Here are some other printables that I think you'll love. Kids love stickers so be sure to check out some of these planner stickers to see which ones you can use for your kiddos to enjoy in their printable diary!
Download your printable diary template below!


I'd love to see how your little one uses her diary! You can tag me on Instagram or share on my Facebook page (I'd love to have you join me in both of those places, too!). Claire has been writing stories in hers.
You might also like the posts below – just click on the pictures to read the posts.