You know how sometimes, the day just gets away from you? You start your day off with the best of intentions and then BAM! it's 5:00 and time to pick up kids/figure out dinner/do laundry/sleep. Any day can go haywire or get derailed. But there are definitely things we can do to help bring more purpose (and productivity) to our days. Planning, even a simple outline of what needs to be done, is one of those things. I'm hoping that this printable daily work planner will help bring peace to at least one area of your life – work!
This printable daily work planner is pretty and functional!
This printable planner is going to help no matter what line of work you're in. Whether you're working from home, or reporting in to an office every day, or self-employed…this will help you lay out your day in a clear and actionable manner. Here are some other tips for making the most of your work day:
Do the thing you DON'T want to do, first. Yep, start off with the worst task of the day. You'll feel like you accomplished something and the rest of the day will be cake.
Turn off texts and social media. If you can, just put your phone away or turn it off completely. But I know we can't all do that. One thing you CAN do is put it on Do Not Disturb, and then have certain contacts who are still able to reach you. That way you can work in peace knowing that if there's an emergency, the important people can reach you.
Set a timer. When you turn off your phone and social, plan on using that time effectively. Set a timer (for 30 minutes, an hour, whatever feels right) and DO NOT spend that time on social or your phone at all. You will get so much more done when your work is uninterrupted!
This planner is printer-friendly!
I love the classic look of the black and white – and your printer will, too! I have the pages set up so there is room to punch holes on either side of the page…so you can print this front to back and fill up a 3-ring binder or a Big Happy Planner set up. Add this printable 2022 black and white calendar and you've made yourself a planner!
You can download the daily work planner page by clicking on the button below that says "download." If you have issues, shoot me an email and I'll send you the PDF directly.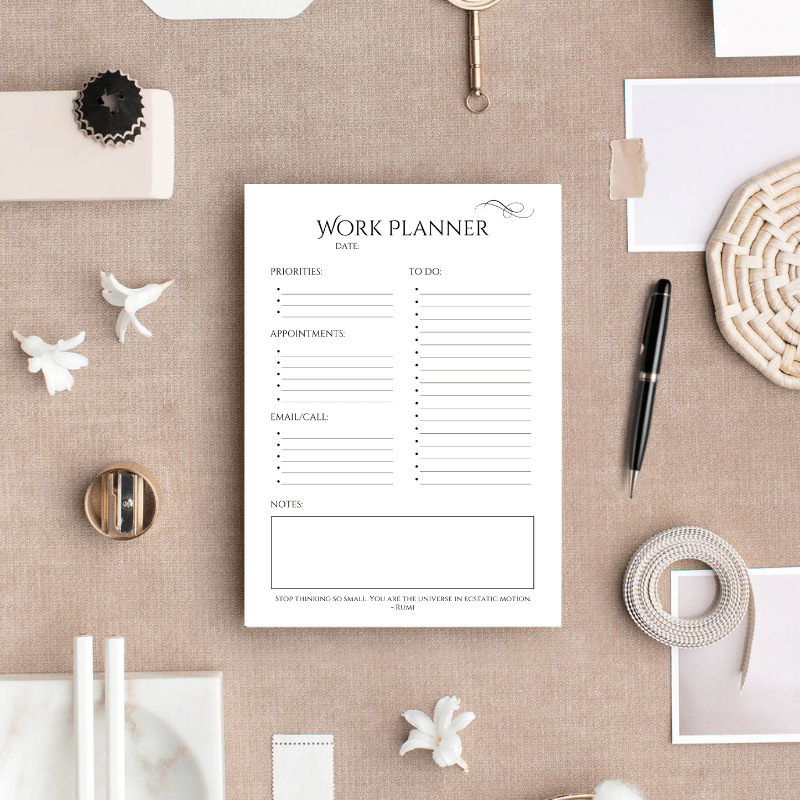 Don't forget to grab these printables, too, to complete your planner!