This shop has been compensated by Collective Bias, Inc. and its advertiser. All opinions are mine alone. #CollectiveBias #HallmarkHolidayMoments
Me at Christmas time every year: I can't wait to send out gorgeous Christmas cards to all my loved ones!
Also me at Christmas time: OMG it's December 21st and I can't find my address book and I can never really remember who I need to send cards to anyway, so…next year I'll send them FOR SURE.
Y'all. I am so bummed on those years I don't get Christmas cards out! But I've been working on some tools to finally get my Christmas card list organized so I will never again have an excuse for not sending cards out! This printable Christmas card list lets you write down the name of everyone on your Christmas card list, and gives you a place to check off when you send out the cards.
Printable Christmas Card List
Not only do I have a printable version for you, but I've also got a Christmas card spreadsheet you can download. This is super helpful because you can export the addresses directly to printable labels – no need to handwrite all of those addresses! I save cards I love, and I keep this in mind when I shop for cards for others. I like to buy cards that people will want to receive.
This year's Hallmark Signature Cards and Hallmark Paper Wonder Cards are gorgeous. Not only are they fun to open and fun to look at, but your recipients will want to keep them around the house – they make gorgeous decor!
You can get Hallmark Cards at Walmart, and most Walmarts have them in two locations – in the Christmas section at the front of the store (near the checkout area) and in the Christmas card section.
I picked out a Hallmark Signature Card to send to Claire's pen pal (it has an ornament on it, so she can hang it on her tree for years to come!).
I got another Hallmark Signature Card to send to my sister.
And I picked out one of the Hallmark Paper Wonder Cards to send to one of my best friends – I know her kids will love it as much as she will!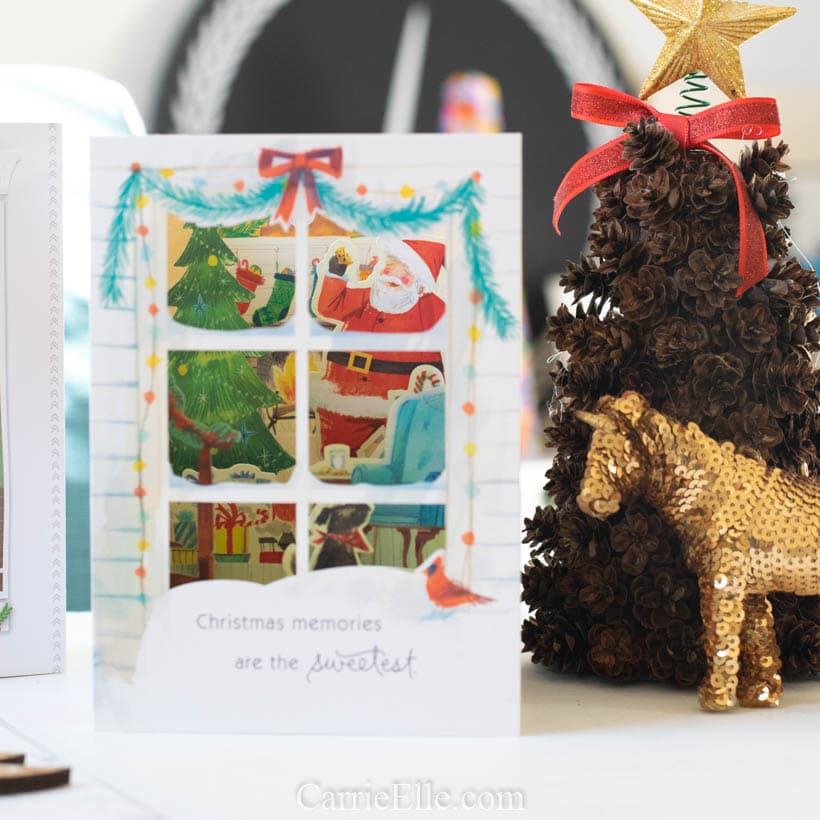 There are a few specials going on right now for Hallmark Cards that can help you save big. You'll find an in-aisle coupon for buy 2 Hallmark Cards get one free. AND! There is also an in-aisle coupon for a plush holiday bear that you can grab for just $3.97 when you purchase 3 Hallmark Cards of $1.97 or more (I totally got the bear – get your deals while supplies last, all available up until December 25th).
​

I'm keeping the printable Christmas card list in my planner – that way I can access it easily when I need to add someone's name to it. I'm using the spreadsheet that you can download below to keep their addresses. This way, I can write down names as I think of them and add them to the spreadsheet before I need to print out the labels.
If you're not sure how to export to labels, google it – it's pretty simple, and there are lots of video tutorials. I set up this spreadsheet so you could export it! 🙂
You can download your Christmas card list and address sheets below.
If you have trouble with that download, try here. You can download the Excel spreadsheet (which will open in Google docs as well) here. You can check out these gorgeous Hallmark Cards, and see what other cards are available, here.
Merry Christmas to all, and to all a pretty Christmas card!