Sooooo. I think it's pretty clear that I have a legit planner sticker addiction. And pen addiction. And, I guess, actual planner addiction. But the planner stickers? Well. I really take that to another level. Because, really…THERE IS NO SUCH THING AS TOO MANY STICKERS.
Right?!
My planner is, actually, highly functional (despite my husband saying to me today, "So, you basically just fill it up with stickers?"). But it's also a memory keeper. I won't be throwing this away at the end of the year. I'll be saving it, like a diary. Every week, I sit down and plan out my upcoming week. It's therapeutic to me to spend some time planning for my week, and I love to make it fun.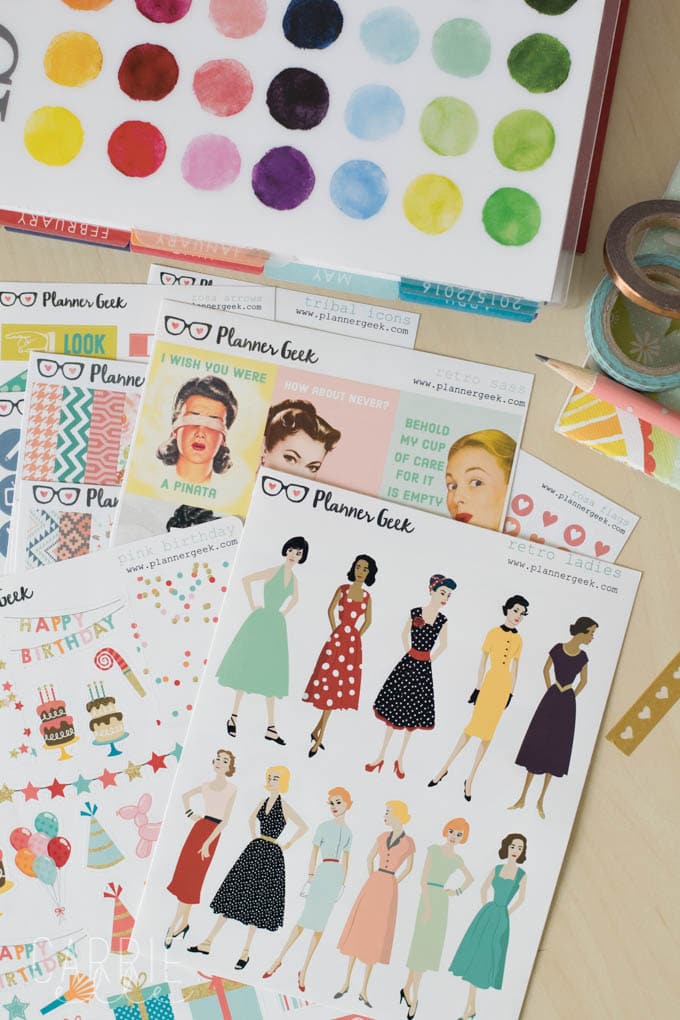 Julie, shop owner and designer at Planner Geek on Etsy, sent me some stickers to check out. Her shop is brand new. Her stickers? Adorable.
She makes all her own clip art, which is fun because you are getting one-of-a-kind art when you buy her stickers (oh, how I wish I had some clip art-making skills).
When I use stickers for my planner, I tend to grab lots of different styles and colors for each week. Until recently, I never really stuck to a theme for each week (unless you call random rainbow a theme). Julie sent me a weekly tribal kit and I decided to actually stick to a theme, using only Planner Geek stickers, to see how my weekly layout turned out (honestly? I usually get super cranky about how it all turns out and secretly wish the week away so I can start fresh next week…ha!).
You can see for yourself how it turned out. <3 Super cute!
(You can get your own Erin Condren planner – affiliate – here!).
You can check out Julie's shop here. You can follow her Planner Geek account on Instagram here.
TWO lucky winners will each win stickers from Planner Geek on Etsy! One person will win 10 sheets (!!) and a second winner will receive 5 sheets. Woohoo! Enter below for a chance to win. Must live in Canada or the United States to win.
Be sure to join me on Facebook for more fun, planner-related topics!