We attended a media event at the Perot Museum of Nature and Science. All opinions are my own.
On December 1st, 20147, the Perot Museum of Nature and Science celebrated its 2nd birthday. If you live around Dallas, I *know* you've at least heard of the Perot Museum…it's a Big Deal, and for good reason. This place is amazing!
We spent several hours exploring the museum, and that is with young children…and we could have easily spent another several hours there. I want to share with you some helpful information for planning your own visit to the museum – with the kids home for holiday break, I know a lot of parents will be looking for something fun to do with the kids.
When we arrived, they recommended we start at the top and work our way down to the bottom, and I think this is a good plan. The dinosaurs are at the top, and that kind of sets the mood (AWESOME) for the rest of the visit. As you work your way down the different floors, you'll meet dinosaurs, visit the Solar System, learn about human anatomy (and get a chance to see your own veins…super cool!), get a lesson in oil and minerals, and learn about some animals. Depending on the age of your kids, this can take all day or a couple of hours.
You can expect tons of hands-on activities for the kids. Here, Claire is trying to pick up some "food" (pom poms) with her "beak" (tongs) as we learn about birds.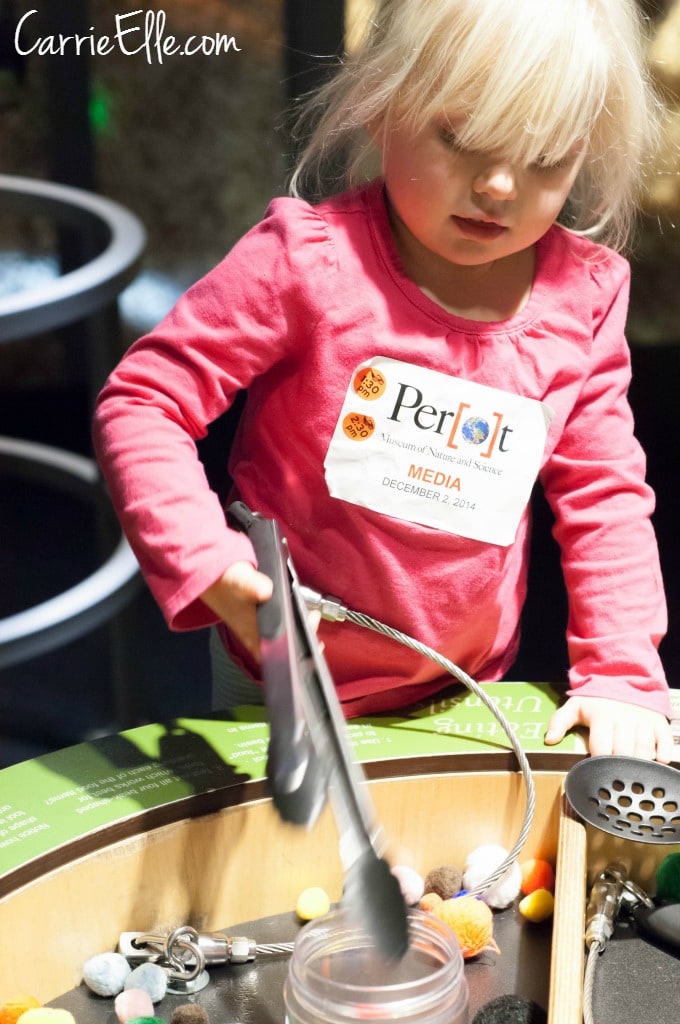 The museum has a National Geographic theater where you can watch 3D movies. These are short – 20-40 minutes long – so you don't need to worry about getting the kids to sit through a long movie. We watched a movie about the Galapagos Islands, and it was SO GOOD! Halfway through, Jack leaned over to me and said, "WAIT! Is this place REAL?!"
They also have a new National Geographic robot film, which we didn't see…but we did get to meet an actual robot (kind of), so the kids were happy.
There is a cafe that serves lots of healthy foods that will appeal to everyone, and this is a good place for a pit stop before heading to the bottom floor, which is where you'll find the Moody Family Children's Museum. This is where my kids would have spent an entire day if we'd had time!
Show my kids a water table and they can be entertained for hours. Seriously!
There are always new exhibits coming to the museum, and we were able to check out the new 2theExtreme: MathAlive! For a math-phobe like myself, this was perfect. It was full of interactive activities like video games, making music, and some fun outer space stuff (and that's just the tip of the iceberg…there was SO MUCH to do in this exhibit!).
You can purchase tickets to the museum here. Before you go, you'll want to see where you're going to park (or maybe it's just me that can't handle driving downtown unless I know *exactly* where I am going!). And be sure to check out the programs and events taking place while you'll be visiting here.
An annual membership to the Perot Museum is a fantastic gift, for your own family or for someone else. And you can get 15% off your membership now through December 12th, 2014, if you tell them you read my blog! Just call the Membership Hotline at 214.756.5751 and tell them you read local blog Carrie Elle to claim your discount. You can see all of the member packages and benefits here.
Have you visited the Perot Museum? What was your favorite part?