I love New Year's. Not so much the holiday itself (which is mostly spent putting Christmas decorations away), but the idea of it. A fresh start, new opportunities…all that good stuff! I think it's worth celebrating. And this year, I'm going to use it as an opportunity to show off my fancy (but super easy) Pecan Pie Pastries, which have some history behind them.
You all *know* I'm not good in the kitchen. I had never in my life baked with Pepperidge Farm Puff Pastry before. I love all the creative ways you can use them…and honestly, I had no idea they were so easy to use (you literally just put them in the oven and they puff up).
My favorite things to eat were definitely the Asparagus & Prosciutto wrapped in Pepperidge Farm Puff Pastry sheets. So good, it was ridiculous. But we got a little hands-on when we made the Pepperidge Farm Puff Pastry with Rolo centers, and once I realized how simple they were to make, I had an idea.
A couple weeks ago, my mother-in-law had sent me a recipe for her famous Pecan Pie. A retired Home Economics teacher and fourth-generation Texan, she's a wealth of amazing recipes and good stories to go with them. This particular pecan pie recipe happens to be incredible and has Texas roots, too.
And what's better than pecan pie and Texas? I'm pretty sure nothing.
In the 60's, my mother-in-law was in college and working towards her major in Home Ec. Always on the lookout for rich dessert recipes, she was intrigued by this pecan pie because it was rumored to come straight from the kitchen of Governor Connally's wife, Nellie Connally. Governor Connally was wounded by the assassin that shot JFK, and my husband's family has a lot of history tied in with that event (which is another blog post entirely…I still need to get to this recipe, so I'll have to share that later).
In the words of my mother-in-law (we call her Grammie), this pecan pie is one of the best Texas has to offer.
I had just read her story about the pie before attending the Pepperidge Farm Puff Pastry party, and I decided that, "OMG. These pastries need to be filled with that pecan pie filling!"
And then I thought, I should totally make little pastry party favors! So I took it a step farther and made them into party favors, which actually turned out to be super cute and appropriate for work parties, neighbor and teacher gifts, and any other time you want to give a homemade goodie to someone.
If you've never used Pepperidge Farm Puff Pastry, have no fear. They're user-friendly! I used a pastry brush to wipe some egg over them and put them in the oven for 20 minutes. I took them out and pushed the centers down, like you see here.
Here's how you'll make the Pecan Pie Pastry: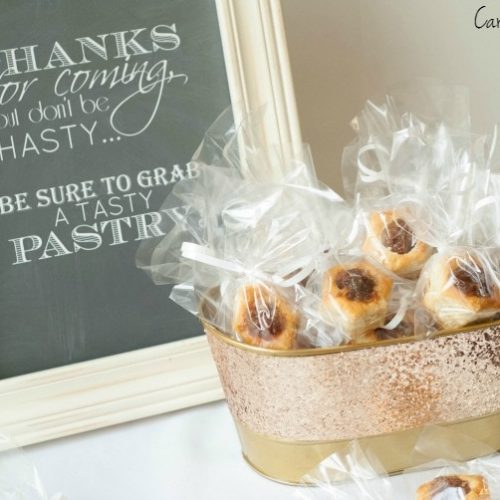 Pecan Pie Pastries with Pepperidge Farm Puff Pastry
Best pecan pie in Texas!
Ingredients
Pastry filling
1/2

cup

butter

1

cup

sugar

3

slightly beaten eggs

2/3

cups

dark corn

like Karo

1/4

teaspoon

salt

1

teaspoon

vanilla

1

cup

chopped pecans
Pastry
1

boxes of Pepperidge Farm Puff Pastry Cups

1

egg
Instructions
Cream butter, add sugar gradually and cream together until light and fluffy. Add remaining ingredients. Pour into 9 inch pie pan and bake at 375 degrees for 40 – 45 minutes.

Follow directions on box of Pepperidge Farm Puff Pastry Cups for cooking pastries (although I did beat one egg and use a pastry brush to brush it onto each pastry before putting it in the oven).

Once you pecan pie filling and pastries are done baking, use a small spoon to scoop the filling into the holes of the pastries.

I refrigerated them to get the filling to set quicker so I could wrap them individually.
Tried this recipe?
Let us know how it was with a rating and review!
I firmly believe that everything is more fun with a printable (right??), so I've made a cute little printable to go along with these. I think it would be fun to have these by the front door for party guests to grab on their way out the door!
Of course, the best part is getting to eat them all. Which I will probably do, and which will probably need I'll to make another batch for New Year's. Oh, darn. 😉
You can find Pepperidge Farm Puff Pastry in the freezer aisle at your local grocery store.
Tell me about your favorite way to eat Pepperidge Farm Puff Pastry?