Lots of great things have come from my grandmother (known as Gramma Jeurine). For example: my inborn need to write, my love for the Wallowa mountains in Eastern Oregon, a passion for books and Beatrix Potter, and possibly most importantly, the Oatmeal Butterscotch cookies I am about to share with you today. Because honestly…oatmeal recipes don't get much better than this.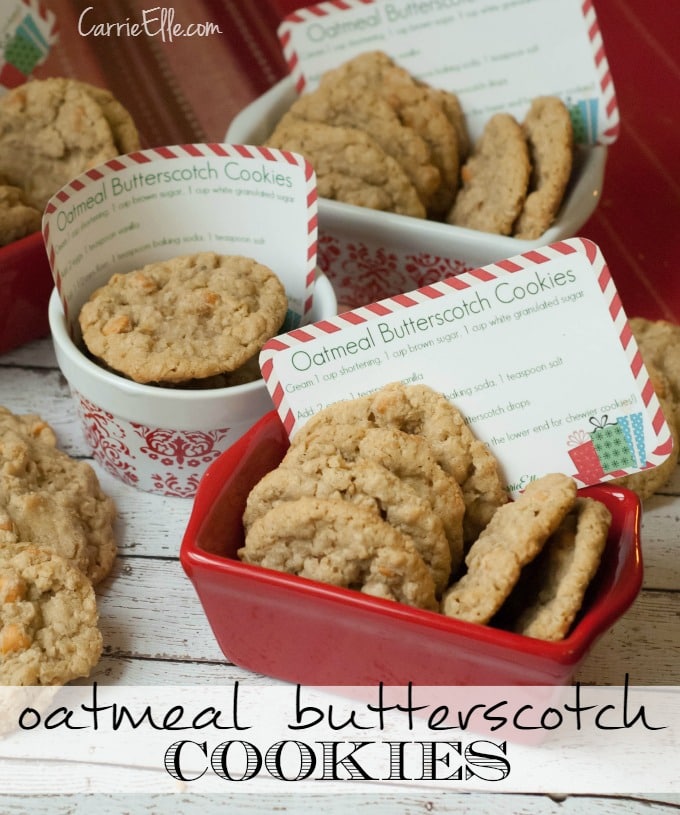 Our trips to visit my grandmother are fewer and farther between than I would like. But my mom has been making these cookies for as long as I can remember (in fact, don't tell anyone, but she baked the cookies you see in these pictures because cookies just look better when she makes them), and they have been a favorite in our family for years now. I have yet to meet someone who doesn't love these cookies, and that makes them the perfect gift for friends and neighbors!
While you're there, be sure to pick up the rest of the ingredients you'll need. And some stuff from the dollar bin, and a fleece hoodie for your kid because it's on sale, and a couple of shirts for yourself, and a squeaky toy for the dog, and some deer-shaped salt and pepper shakers, and a box of wine. <<<–or is that just me?
Here's what you *need* to buy to make these cookies (I can't be blamed for any non-cookie purchases, but I'll be completely sympathetic if you blow your budget on non-cookie items like stationery and crazy socks, because I totally understand), and here's how to make them!
Ingredients
1 cup shortening
1 cup brown sugar
1 cup white granulated sugar
2 eggs
1 teaspoon vanilla
1 1/2 cups flour
1 teaspoon baking soda
1 teaspoon salt
3 cups Quaker Quick Oats
1 package butterscotch drops
Directions:
1. Cream shortening, brown sugar and white sugar.
2. Add eggs and vanilla and mix.
3. Add flour, baking soda and salt and mix.
4. Add Quaker Quick Oats and butterscotch drops. Stir.
5. Place 12 dollops of cookie dough deliciousness on your cookie sheet and bake at 350 for 8-10 minutes (towards the shorter end if you like them chewy).
You'll get 48 cookies out of this recipe. Don't eat them all! Or do eat them all. I won't judge.
If you make these and give them as gifts, your friends are going to want the recipe. So for a gift that really does keep on giving, I've created printable recipe cards that you can include with your cookies. Drop a few cookies into a cute dish, add the recipe card, wrap 'em up, and ta-da! Super easy and much-appreciated gifts for everyone you know!
Click on the image below to print your own recipe cards.
There are lots and lots of oatmeal recipes to love. But this one is my absolute favorite. So, to my Gramma Jeurine…thanks for teaching me to love Oregon, and thanks for teaching my mom to make these cookies!
What are your favorite oatmeal recipes? Do you have an oatmeal cookie recipe you love?