Guess what time it is?! It's planner time! This is my favorite time of the month, when I collect everything you need to be inspired to create The Most Beautiful Planner Ever, and put it all in one place. This post is so much fun. I know you are going to l-o-v-e this November Planner Inspiration. Grab a hot cup of tea, kick your feet up, and get ready to get inspired.
November Planner Decorating Themes
Let's kick off this November planner inspiration with some fun themes for the month. Design your entire month around these themes, or use a different one each week. It doesn't matter what kind of planner you're using, and as you'll see, these ideas can be used in any planners!
Here are some themes that will get you excited about planning:
Fall leaves
Pumpkins
Sweater weather
Thanksgiving
Turkeys & pumpkin pie (yum)
You've Got Mail (this movie takes place in November)
Charlie Brown Thanksgiving (another classic that also takes place in November)
Coffee or hot tea
Chrysanthemums (the flower of November, did you know?)
Veterans Day (November 11th)
Color Schemes for your November Planner Layout
Here are some color combos that I cannot get enough of! These are all perfect for fall, whether you're going for something neutral and muted or over-the-top colorful. I thought it would be more fun to show them rather than to write them all out, so enjoy the eye candy below!
Things to Track in Your Planner for November
Here's a list of things to track in your planner, along with things to start planning for.
Gratitude
Christmas budget planning
Workouts
Movies you watch (fall is the best time for movies!)
Mood
Sleep
Holiday travel plans
Holiday party hosting
Best November Planner Stickers
You know we love planner stickers around here. Here's a post about how to make your own planner stickers. Below I'm going to share free printable stickers and some of the latest/greatest/cutest stickers you can buy online (honestly, I like to mix it up and do both in my planner).
Grab the colorful Thanksgiving planner stickers below by clicking here.
These warm-toned Thanksgiving planner stickers can be downloaded here.
Don't want to cut them out? Here are some Thanksgiving planner stickers you can buy:
November Planner Inserts
Here are some November planner inserts you can print out at home.
I am obsessed with these printable pumpkin-themed inserts for your Classic Happy Planner. They're teal and pink…so pretty!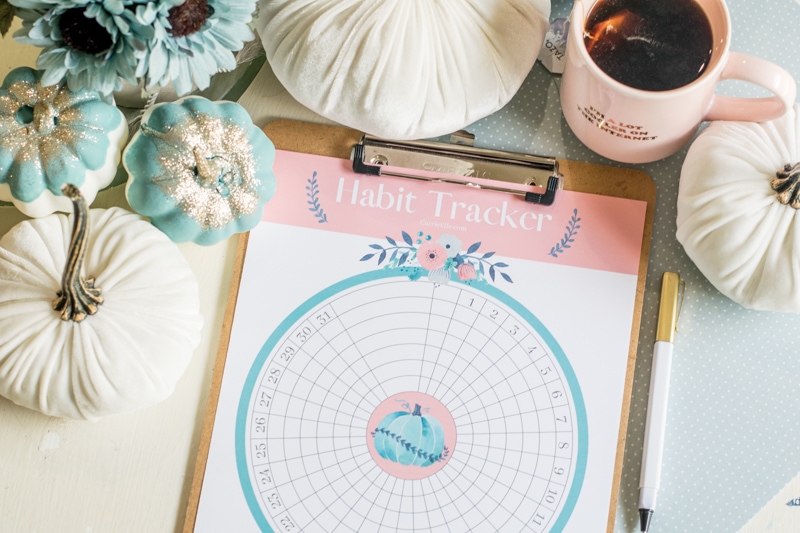 And you can grab a matching Habit Tracker here.
November Planner Layouts
Now let's talk about planner inspiration! I have lots of cute planner spreads to share with you. You can also follow my planner page on Instagram for inspiration year-round.
The planner pictured below is the Perpetual Planner. Unfortunately, it is no longer available, but I think you'll get some great ideas from it!
I used a combination of orange, mustard yellow, buffalo check, and journaling to bring this page together.
Use extra space to journal about movies you're watching, favorite TV shows, and books you're reading. It's fun to go back and look – it's like a little snapshot of the pop culture in your life!
This page is a combo of stickers I found online and printed out myself.
Another great way to use up empty space is with a vision board or a mood board. I have a huge collection of old magazines – this really helps me use them up and I have a lot of fun making these collages!
When in doubt…journal!
Orange and turquoise or a light blue are always a good bet for a colorful November layout! Using one set of stickers to decorate will keep it cohesive. Here's a collection of monthly planner stickers that is similar to what I used here.
Empty days on your monthly calendar are perfect for stickers, notes, and little bits of journaling.
Want more inspiration? Follow my @ShopCarrieElle Instagram for year-round planner inspo!