As I write this post, October is nearly over but it's still 80 degrees outside. Thanks, Texas! A look at my weather app shows me that next week we'll be dropping into the 40s, though. That means it's soup time. Here's a collection of delicious and healthy fall soup recipes that are perfect for cool autumn days.
Fall Soup Recipes
Most of these recipes are 21 Day Fix and Weight Watchers friendly – find the points and container counts in the posts.
Spicy White Bean Soup with Turkey or Chicken – Add a little spice to your evening (or lunch!) with this white bean soup. It's a great recipe to use up leftover chicken or turkey (save it for Thanksgiving leftovers!).
Creamy Pumpkin Gouda Soup – Yum, yum, and more yum. It's my favorite squash in a creamy, dreamy gouda-y soup that also happens to freeze really well.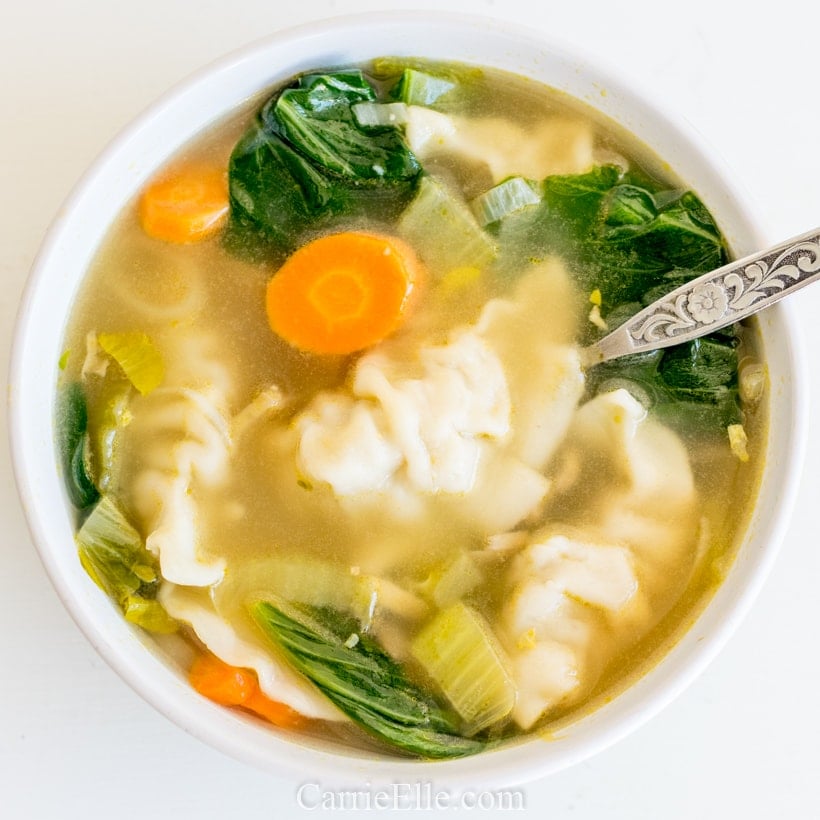 Instant Pot Potsticker Soup – This one is a crowd-please! It's easy to make and uses frozen potstickers.
Crock Pot Chicken Vegetable Soup – This soup is made in your slow cooker, and you can pack it with your favorite veggies.
Instant Pot Bolognese Soup – This hearty soup is made in the Instant Pot (favorite way to make soup around here!). It's got a ton of flavor and all the protein and pasta will fill you up.
Crock Pot Vegan Vegetable Soup – This soup is nice and light, but you can load it up with seasonal vegetables. It's a great way to get those veggies in!
Crock Pot Curried Butternut Squash Soup – Another crock pot favorite, this one is bursting with flavor.
Carrot Curry Soup with Peanut Butter – Ohhhhh, the flavors in this! Peanut butter! Carrots! Curry! Try it, you'll like it.
Cauliflower Soup with Goat Cheese – This soup really packs a punch when it comes to getting those veggies in! And I promise you, it's delicious and creamy and goat cheese-y. Don't be afraid of the cauliflower in this.
Instant Pot Roasted Bell Pepper Soup – Another pressure cooker delight, but this one with so much color and flavor from those bell peppers. This one also freezes well!
Instant Pot Split Pea Soup – Split Pea Soup is a favorite of mine, especially on these chilly fall days. This one is light on the carbs compared to a traditional split pea soup recipe, but you won't notice the difference!
Instant Pot Chicken Florentine Soup – We love, love, love this recipe. It takes a little time to get it all together but let me tell you, it's worth it. And good for you, too!
Instant Pot Taco Soup – Every day is taco Tuesday with this tasty bowl of goodness.
Chicken Marsala Soup – This soup is light but packed with protein and flavor.
Enjoy your favorite fall flavors and feel good about the nourishing food you're eating with these healthy fall soup recipes!