Books have been a part of my life since I was a small child. With a grandmother who was a librarian and a mother who was a collector of children's books, I feel like I've been immersed in the literary world since I was a baby. And to be honest, there were times when I preferred the literary world to the real world. I have always, always, always loved books.
Random side story that might make you think I'm weird: I love the smell of books. Charles always makes fun of me because I'm always smelling them (they smell good, y'all!). The other day I cracked open a new book and Claire (who is five-years-old) says to me, "Ooooh, can I smell it?" At which point I let her smell the book and then felt a moment of parenting pride as she sighed a happy sigh and said, "It smells so gooood!" Ha!
Today I want to share with you some of the gift ideas for book lovers that I could think of.
Cratejoy provided me with two of the gift ideas I'm featuring in this post, but I completely adore them and recommend them wholeheartedly. All opinions are my own. I hope you love these ideas! This post also includes some affiliate links.
Gift Ideas for Book Lovers
Book Boxes – Subscription book boxes are the best. And you don't always have to subscibe – many services let you order one box at a time, making them perfect for gift-giving.
That takes the pressure off you (I know how hard it can be to pick a book out for someone), and lets you spoil your favorite book lover in a very unique way. Not only will they get a new book (usually, something that was just released), but they'll also get a box full of fun accessories that go with it.
Here are two I've tried (and loved) recently:
Cozy Reader Box ($64.95/month, packed full of full-size goodies and a gorgeous hardcover book). I LOVE my Cozy Reader Club box! You can watch my unboxing video below. Claire and I opened this one together, and oohed and aahed over everything. The box I received included shortbread cookies, a mug, a handmade mug cozy, a gorgeous bookmark, a bag of artisan coffee, and a hardcover version of Miss You. This box was classy, full of cozy goodies, and beautifully packaged.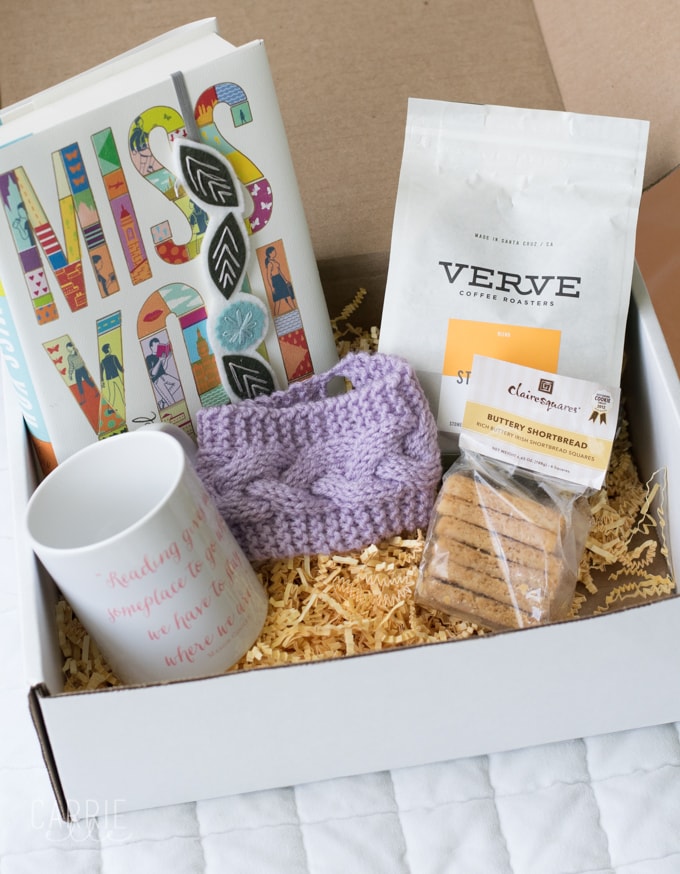 Book Bath Box ($39.95/box – goes out quarterly). The only thing better than a good book is a good book and a long bath. Right?! The Book Bath Box combines books and baths. With quirky titles and unique extras, this box is perfect for someone who wants to chill and indulge in some self-care while reading a new book. My box included incense, an incense burner, a bath bomb, a handmade tea cozy, chai tea, and a copy of Behind the Throne (which I'm super excited about because this isn't a title I knew about – I can't wait to read it!).
Muse Monthly ($29.50/month, has an average value of $50-60). Another fun book box, this box comes with a newly-released hardcover, full-size tea tins and surprise bonuses each month. They also ship internationally!
Bright, high-quality reading light – There's nothing worse than a dim reading light. I love to read in bed, but it drives my husband crazy when I turn on the light by my side of the bed. A bright reading light is a must! Don't go cheap on this, trust.
Audiobooks – For the book lover who spends a lot of time in the car, consider audiobooks. An Audible gift certificate is a great treat for someone who might spend more time commuting than curling up with a good book.
Reading Journal – A reading journal is the perfect present for someone who likes to read AND write. This is a fun way to record favorite quotes and reflect on favorite books.
Gorgeous Bookmark – I got this stunning bookmark from Love Maude in my Cozy Readers Club box. It's so pretty, and would make a perfect gift!
Love books? I do, too! Join me on Facebook for more booky goodness – and check out the posts below!