Updated: I've added 21 Day Fix container counts to this pasta salad! You can find them at the bottom of this post.
Lately, I've been craving pasta salad. Something about cold, carby pasta drenched in olive oil has just appealed to me. Of course, I'm on a diet…so that kind of puts a damper on things. But since I've been incorporating whole foods into my diet, I totally justified making pasta salad by making organic pasta salad with all whole foods. BOOM.
I literally threw this together with ingredients I had on hand (actually, it was inspired by the zucchini, because I needed to use it) and had the whole thing prepared in just a few minutes. I wasn't planning on blogging about it, but since it turned out so pretty and tasted so good I had to snap a few photos…and it would be a shame not to share this easy pasta salad recipe with the world.
I should say here that when it comes to "cooking" (can you call preparing pasta salad cooking?), I am a stickler for following recipes…but when I make something myself, without a recipe, my mantra is, "It's not rocket science!" I tend pour in olive oil and shake salt and cut up veggies like a mad woman, leaving a trail of destruction in my wake, and hope for the best. So the instructions below are really more guidelines than hard, fast directions.
Easy Pasta Salad
Easy Pasta Salad
Easy to make, easy to eat, and healthy, too!
Ingredients
Whole wheat pasta

I used about 2.5 cups, dried

Zucchini

I used only one, but I'd use two next time

Cherry tomatoes

I used about two cups

Olive Oil

2 T

Balsamic Vinegar

2 T

Salt and papper

to taste

Mozzarella

I used about 8 oz, cut into little cubes

Basil

I used two fresh leaves, diced

Oregano

I used dried, but I'm sure fresh would be better!
Instructions
Boil your noodles. Once drained, toss in olive oil (just enough to keep the noodles from sticking together). Stick the pasta in the fridge until it's cold. I waited until it had cooled off to mix ingredients because I didn't the cheese to melt or the zucchini to get soft)

Once cold, add the tomatoes, zucchini, basil, oregano (to taste) and mozzarella. Pour in olive oil (I like to use just enough so that all of the pasta will be coated but it's not pooling in the bottom of the bowl) and the balsamic vinegar (two tablespoons or so). If in doubt, go easy on the olive oil and vinegar and just add more after you've mixed everything. Toss everything together, and add more oil as necessary. This is when I tasted it and decided on a little more balsamic. I also added some salt and pepper at this point.

Cover, and put back in the fridge so everything can chill.
Notes
21 Day Fix container counts:
Serving sive: 1 1/2 cups - makes about 5 servings
1 yellow
1/2 green
3/4 blue
1 1/2 tsp
Tried this recipe?
Let us know how it was with a rating and review!
The fresh basil really made this dish, so if you can, use fresh basil. Also, maybe splurge on the mozzarella.
This is the perfect dish for summer get-togethers and would be perfect for potlucks, too.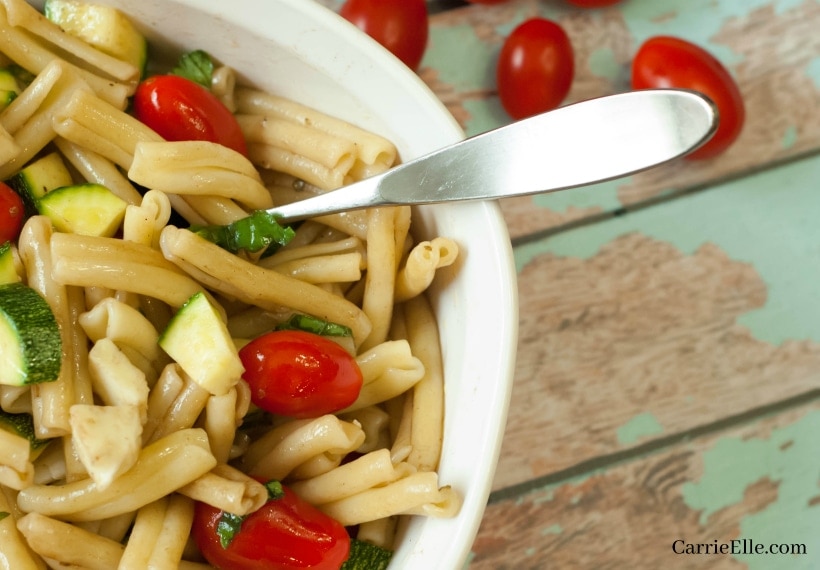 What's your favorite go-to dish for summer? I have a feeling this is going to be mine!
Looking for more easy recipes and meal planning help? Check out these easy recipes: