Hello, journalers! I have something special for you. Awhile back, I put out a new blog post every month with seasonal journal prompts, affirmations, and printable journaling pages. I have combined them all into one pretty eBook that I hope will inspire you to keep journaling all year long. These 365 journal prompts are organized by month and all contained in one handy file.
365 Journal Prompts eBook
You'll find a prompt for every day in this journal prompts eBook. There are 60 pages in this book. It contains:
Journal prompts
Affirmations
Printable journaling pages
My hope is that you'll find some prompts to inspire you to write all year long.
How to Use These Journal Prompts
I have sorted the prompts by month (the book starts with January, but obviously you can start it whenever!). You'll notice that some of the prompts repeat (for example, I think there's one every month that asks about how your month feels so far). You can work through every prompt, day by day, or you can skip around.
You can also feel free to skip prompts entirely that don't resonate with you (journaling should be a release, not a chore).
Many of the prompts are spiritual in nature. If that doesn't work for you, replace the word "spiritual" with "highest self" – the energy behind the prompts is the same either way.
You may find yourself barely able to get out a word or two on some days. Other days, you may find yourself writing pages and pages. That's totally normal and you should write what feels right. A lot of times, people will give themselves a goal – a sentence or a paragraph per day, for example. That is totally ok too if that works for you and makes your daily journaling more manageable. But if you want to let it flow freely (or not, on the days when you don't feel called to write) – that is totally okay, too!
Your journaling practice is YOUR practice, and should work for YOU.
Free Journaling Resources
Here are some other resources for you if you're new to journaling, or want to deepen your journaling practice:
Gratitude Journal Prompts – use these to strengthen and grow a gratitude practice
What is Bullet Journaling? – Want to try bullet journaling? Start with this!
Bullet Journal Ideas – use these fun journaling ideas for any type of journal you keep.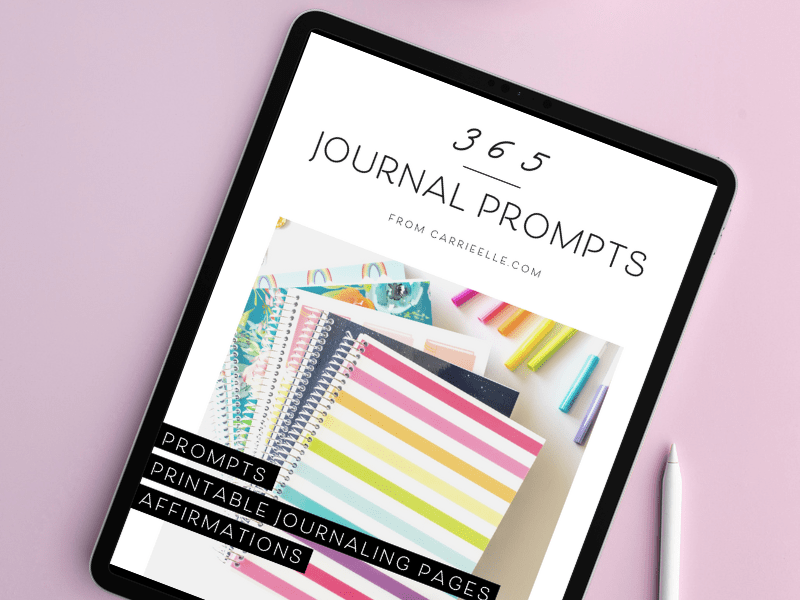 How to Download Your Free Journaling eBook
You can click here to download your book. Or, you can click on the black and white "download" button below. If you have any trouble, please shoot me an email and I'll get you the file!
Once you have the file, save it to your computer so you'll always have it. You can print off the pages you need as you need them!